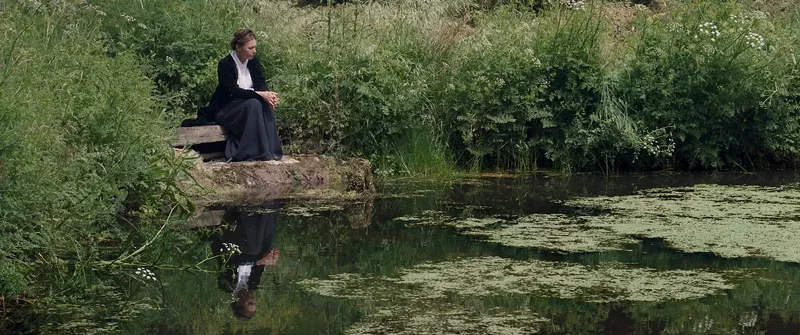 In one telltale moment in Frederick Wiseman's A Couple, Nathalie Boutefeu (playing Sophia Tolstaya, the wife of Leo Tolstoy) reads aloud a diary entry from her husband, treating her with the harsh description, "thinking herself the victim of my unending whims." The couple, who we never see together, have long been married even then — but their engagement is mediated through letters, diary entries, and her expressive monologues — all rendered through her person. Whether addressing Tolstoy's affairs, or her own desires, ambitions, and grievances, Sophia's constant effort at communication serves to spotlight a fundamental rift, creating a space for the film to meditate on the fundamental isolation — and embedded tragic nature — of romantic and married life.
Wiseman's best known as a documentarian, still prolific as of this writing — even at 93. Regarded rightly for his attentive, often extended attentive looks at geographies, institutions, and social processes in deep detail, this roughly hour-long film stands out among his work as not only a short but a quite rare fiction work: just one of three from across his long career. As a one-woman show arising rather plainly from the risks, restrictions, and aesthetic considerations of shooting amid the pandemic, the film reflects implicitly on what it doesn't show but addresses anyway: the end, due to widowing, of Wiseman's own decades-long experience of married life.
While moving between locations across what looks to be a lush and overgrown but still-blooming estate, the film retains Wiseman's characteristic sense of focus. Lest one doubt the facility of the filmmaker behind Welfare (1975), City Hall (2020), and other living monuments with narrative filmmaking, it's worth mentioning that every shot in a movie records its own kind of nonfiction: the truth, however mediated, of an actor or subject's performance, or within whatever images it happens to show. (Likewise, most every work presenting as nonfiction captures images of and by people engaged in their own processes of narrative and socially driven construction.) Benefitting from collaboration with his longtime cinematographer John Davey, Wiseman courts his subject here through an unadorned, rhythmic process of alternating editing. Moving between largely static shots of Boutefeu (who also collaborated in adapting the script from Sophia's writings) navigating what seem to be the grounds of the Tolstoys' vast property and steady processions of natural images — usually of trees, wildlife, or, most strikingly, waves pounding rocks and shoes, the movement allows the monologues to breathe, avoiding claustrophobia in favor of a broader scope.
One function of this form of crosscutting — at least for myself in watching — is to generate some sense of a dialogue, even in spite of the film's commitment to soliloquy. Rather than make Sophia seem indulgent (as a more posh environment also might), there's a fierce, charged, and all too contemporary sense of her feeling not just alone but deeply abandoned, making each wordless sequence between her monologues scan as — more than a pause — almost a form of neglect. Even as Wiseman engages Boutefeu in close collaboration, there's a haunting sense in watching Sophia Tolstaya's grievances being left by her husband still unanswered — and of her attempting to disentangle from their relationship some sense of who she is. "Your power crushed my life. And my personality as well," she says quite early. A bit later, she offers up: "I shall not become you. I am not you." At another, she voices an inability to even grasp her feelings, due to a sense simply of fatigue.
This sense of entanglement, of a deep confusion between the pair regarding the bounds of individual identity, provides a subject of consideration throughout the film. Watching Sophia grapple with her own desires, whether for credit on the works she edits, to publish more writing of her own, and — crucially — to pursue her own romantic affairs despite the pain her husband's causes her, saves the film from both gender-based sanctimony and historical distancing. Framing Sophia as aspiring merely to level ground, to the forestalled experience of the simple freedoms her husband enjoys, allows A Couple to attend to even its absent characters equitably, in a manner less individuated and heroic than widely resonant. Even so, its treatment of gender attends to present- and past-tense wrongs in which women are wrongly obscured, with it dealing frankly, too, with the realities of class which attenuate her grievances.
Aided by these and other virtues, A Couple elegantly addresses a) its nominal historical subject, b) the sense of halting, uncertain, and inconstant isolation which accompanies most relationships as surely as it does single life, and c) the particular sense of subordination experienced by many a "supportive" partner. Charging all these sentiments — alongside the film's other resonances (such as its engagement, outlined through its repeated shots of waves, of the wearing effects of life and time) — with a sense of considered, informed, and empathetic concern, A Couple manages to do a tremendous amount with scant resources. Achieving a sense of potency few filmmakers could manage if given anything close to the same, Wiseman attends as beautifully here to what his characters have as he does to what they've lost.
A Couple screens at the Detroit Film Theatre on March 18 and 19; tickets can be purchased at dia.org.
Coming soon: Metro Times Daily newsletter. We'll send you a handful of interesting Detroit stories every morning. Subscribe now to not miss a thing.

Follow us: Google News | NewsBreak | Reddit | Instagram | Facebook | Twitter