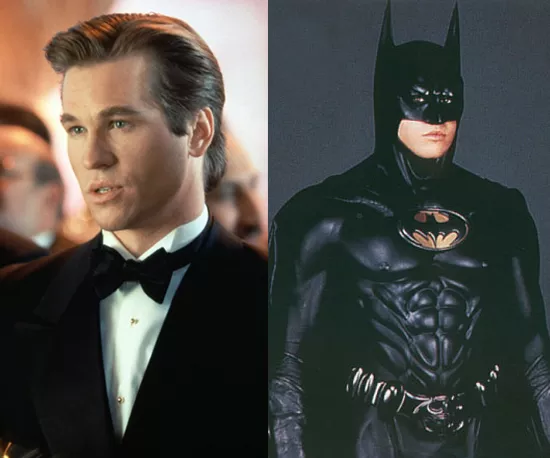 Val Kilmer caused many a young lady to swoon when he starred in blockbuster '90s flicks like
Top Gun
,
Heat
,
Tombstone
, and
The Doors
. And who can forget his turn as the Batman in Joel Schumacher's
Batman Forever
?
OK, maybe it's not totally fair to call Kilmer a "'90s hunk." He continued to work in film long after Y2K, although few titles captured quite as much fanfare as his work in that particular decade.
The actor starred in three flicks just last year and has two more works in post-production. He's doing all of this while battling cancer (and, sadly,
not looking great doing it
. Sorry, feel better, Val.), and he's taking time to appear at Motor City Comic Con this May too.
Kilmer is just one of many stars who emerged during that beautiful period of time plainly referred to as the '90s. Original lady badass and
Xena: Warrior Princess
star Lucy Lawless,
The Lost Boys
' Jason Patric (OK, that movie came out in '87), Wallace Shawn (
The Princess Bride
,
Toy Story
, etc.), and Will Fiedle, who is probably best known for playing boneheaded older brother Eric Matthews on the classic American sitcom
Boys Meets World,
will all appear at the convention.
It's a great lineup that also includes
Sons of Anarchy
's Ryan Hurst,
Game of Thrones
' Jerome Flynn, WWE wrestler Trish Stratus, and the cast of the recent remake of Stephen King's
It
.
Over 300 comic creators, writers, illustrators, and actors will be at the convention, which takes place Friday, May 18 through Sunday, May 20 at the Suburban Collection Showplace in Novi. For more info
go here
.