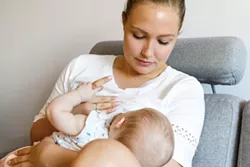 I have a running list of things I never thought about before I had a kid. And one of those things is where in the actual you-know-what can I breastfeed my kid without exposing myself to the entire universe.
Listen, ladies, I know it's our right and there ain't nothing in the world wrong with feeding your baby in public because that's what breasts are for. But, some of us just don't feel 100 percent comfortable doing it, say, in the bleachers at a Tigers game. And don't even talk to me about nursing covers because there is no way on God's green earth that my kid is going to let some piece of fabric lightly rest of his face while having his afternoon snack.
So, as a gift to all those moms out there, we compiled a list of super fun mom- and kid-friendly places in metro Detroit that make an effort to provide a private, comfortable place to breastfeed your babe, and maybe also a power outlet so you can charge your phone while you're at it.
Comerica Park
Just last year Comerica Park was failing to provide a clean environment for breastfeeding mothers to feed their children (or pump if they're away from their kids), but have made huge efforts to remedy the situation after a local mother called them out on Facebook. Now the stadium offers a nursing lounge replete with a bright orange couch and a flat screen TV.
Detroit Zoo
Travel way down past the polar bear exhibit and you'll find an air-conditioned lactation room with a TV, changing table, and a sink, but if little Ruby is in need of a nosh before that, you can stop and nurse her on one of the zoo's many secluded benches.