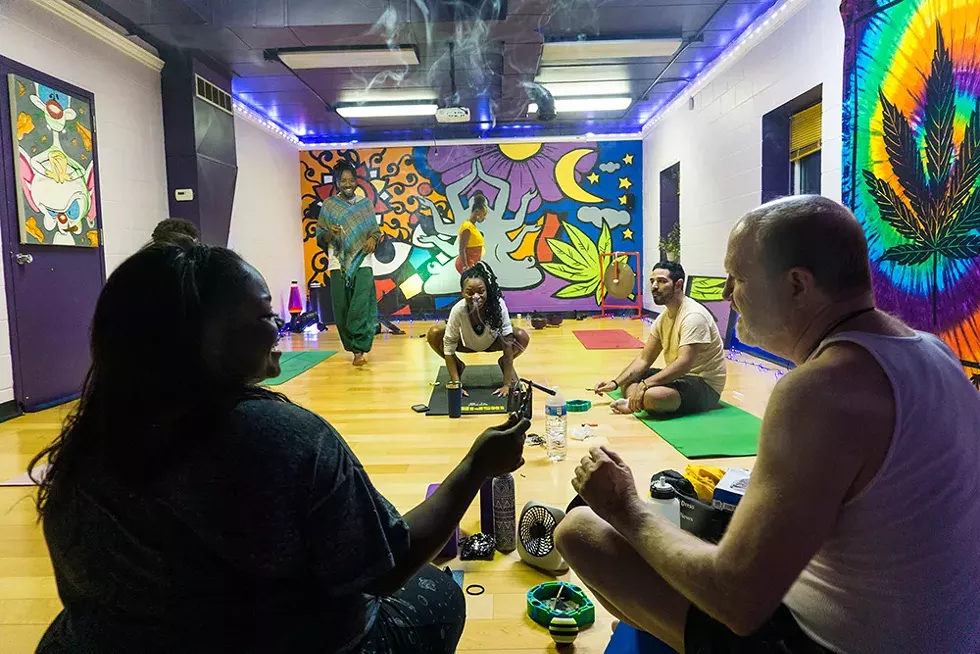 A wave of electric energy washes over my body as she strolls across the floor, stopping to draw an ancient symbol on my forehead. Her spirit seems to touch mine in a comforting embrace, letting me know I am safe. I am loved. Either I'm high as hell, or this woman is a goddess and we just exchanged divine feminine energy. Considering that I'm laying on the floor of a yoga studio decorated in cannabis paraphernalia after smoking a fat bowl, I'm probably just high.
I have never practiced yoga under the influence before, but when I heard about Elevated Yogi I wasn't opposed to the idea. This Black-owned yoga studio in what looks like someone's house on Jefferson Avenue hosts smoke sessions before every class. Bring your own mat. Bring your own bud. The smoke sesh is from 6:30 p.m. and class follows at 7 p.m. If you have trouble finding it, just look for the purple banner out front that reads "YOGA STUDIO" with a female character sitting on a cloud smoking a joint. Ring the doorbell for entry.
When she opens the elaborately carved wooden doors that look like they belong on one of those old churches on Woodward, Maya Biggs stares at me with a friendly smile. She's the teacher for this evening's class and I wonder if she's going to let me in or not as we stand there beaming at each other.
"Hey, I'm Randiah," I say awkwardly.
"Yeah, you look familiar," she giggles and ushers me inside. We've never met before.
She leads me to a room set up with wooden restaurant booths and tells me I can either sit here to smoke, or light up in the studio. I take a curious peek into the studio and am greeted by a blacklight mural of a person with eight arms sitting cross-legged. Each of their seven chakras is illuminated by a different color of the rainbow. Eventually, more yogis arrive, lighting up joints and glass pipes as they make themselves comfortable on the studio floor.
When studio owner Leonard Coklow enters the room, he gives me the same smile as Maya. It's as if we're old friends who haven't seen each other in years, except we've never met before either.
"I'm happy to see you," he says to me. He seems to float across the floor as he sets up the altar in front of the room and lights incense.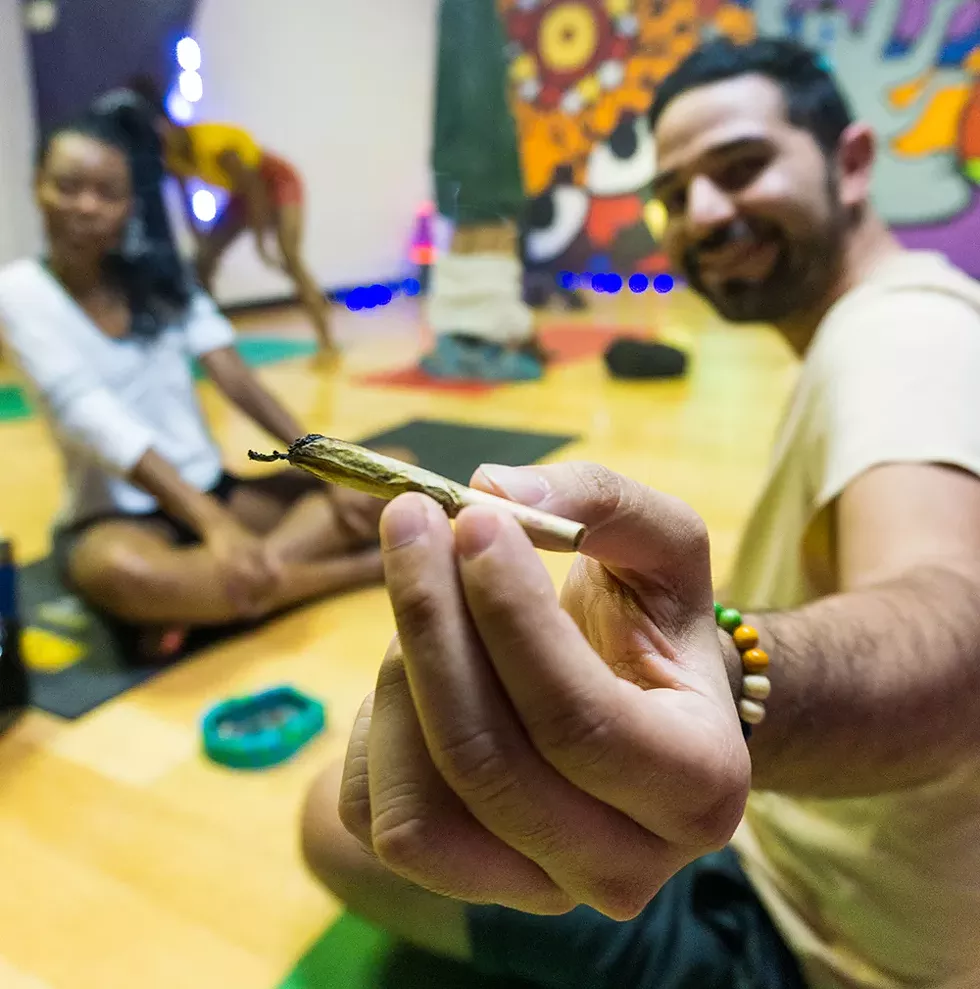 Elevated Yogi has been around since 2016. Before they moved to this location they were practicing at Detroit's Gabriel Richard Park and getting the word out through a service called Meetup. As they gained a following, they were offered space by a student who owns their current building. The building also houses Cannabis Council which describes itself as "America's First Cannabis Law Firm since 1999," specializing in marijuana business licensing and regulatory compliance.
"A lot of people I grew up with don't really want to do no yoga, but if you say it's 420-friendly they'll try it," Leonard says of why he started Elevated Yogi. "A lot of people say [cannabis] is a gateway drug, but it could also be the gateway to yoga or whatever you want it to be — the gateway to love."
He interrupts my questions with one of his own, "What have you been imagining the most today?" Even though the question feels invasive coming from someone I just met, I answer honestly.
"The future," I say. "I feel like the universe has been manifesting things into my life that I called in subconsciously whether I was ready for them or not."
He asks me to elaborate as he turns on the LED lights and lava lamps crowding the floor near the front of the room.
"Like jobs, relationships, following my passions, and taking my life in the direction I want it to go," the words seem to come out almost involuntarily. He nods.
I'm not sure why I volunteered that information. I wasn't even high at that point, but there was something about his gentle voice and friendly nature that compelled me to be authentic in that moment.
I'm definitely high by the time Maya leads us through the realest yoga class I've ever been to. She encourages us to inhale deeply and exhale with a yell, a growl, or whatever sound we need to release. While I hesitate the first time, as the practice goes on, my inhibitions fade and I let out a loud wail. It feels cathartic.
As someone repeatedly passes gas loudly, Maya doesn't even try to hold back her laughter. It's contagious — the laughter, not the farting — and soon almost everyone in the room is giggling. Even my most stoic state of zen is no match for it and I find myself laughing so hard I fall out of my warrior two pose to the floor. As the class comes to a close, Leonard uses singing bowls to bathe us in a wall of vibration and sound. It's so loud it's almost unbearable as the ringing swirls around my head. Maya walks around the room performing reiki — a form of energy healing through physical touch.
Afterward, a few of us gather in the kitchen to partake in a vegan dinner Maya has prepared, for a fee. It feels like congregating for Sunday dinner at grandma's house, except we're all sitting in a daze in varying levels of consciousness. Leonard sits on a stool with his eyes closed and shoulders perked upright as he puffs slowly on a blunt. Occasionally he starts laughing unprovoked and we all seem to join in. Nothing is really funny, it just feels good.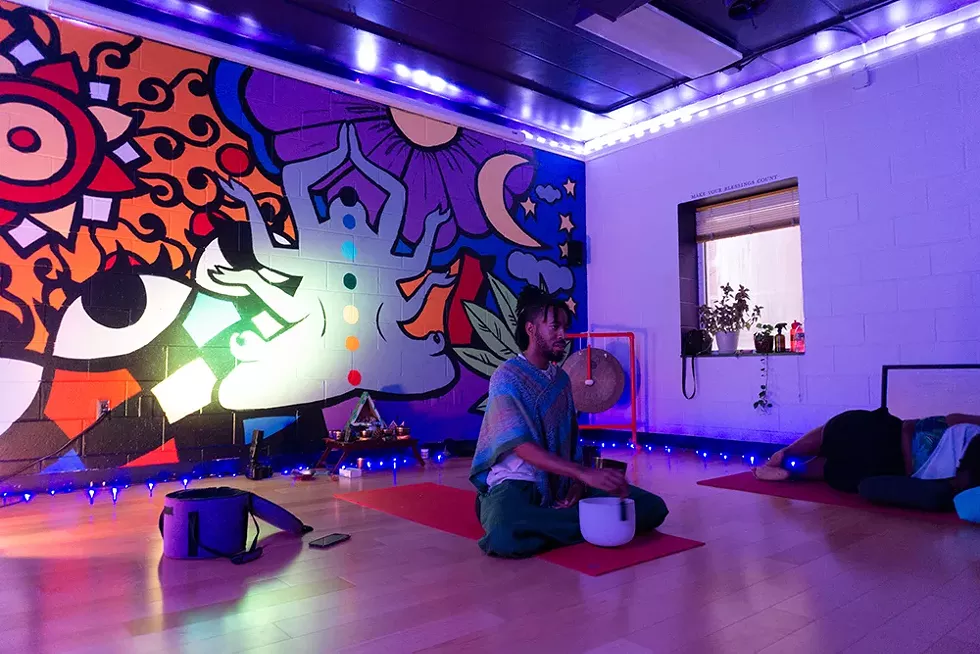 This is more than just a yoga studio or a place to get high, it's a community where people are encouraged to share their creativity, philosophy, and food with each other. Cannabis just happens to be another plant in a plant-based lifestyle. Leonard says the space is open for creatives who want to host their own workshops or events as long as they align with Elevated Yogi's vision. They've held cooking classes, painting workshops, and book clubs in the past. One student sitting at the kitchen countertop talks about doing tarot readings and reiki sessions in the studio and everyone encourages him.
As Maya makes plates of vegan spaghetti, garlic bread, and salad, Leonard asks me if I cook, implying that I could be the one making dinner after class in the future. But there's something more pressing I want to discuss with him.
Elevated Yogi has come under fire recently for their views about the COVID-19 vaccine. While other studios have required students to wear masks and implement social distancing per the Center for Disease Control and Prevention's ever-changing guidelines, the studio has done neither. On their Instagram page, you'll find several posts with messages that they have "divine protection" against the virus and are "vaccinated by love." One post reads, "We don't care if you're vaccinated or not. Do what you feel is best for you. We love you regardless."
Several comments on social media and Google accuse the studio of promoting irresponsible "New Age BS." When I ask Leonard to clarify, he replies simply, "we accept everybody." So why are people so upset?
"Because they need to be upset. They need to get that energy out. I'm not upset," he laughs. "And at the same time I don't have no hate against them or even think that they're wrong, because they're not. What they say is true because they believe it. That's the reality that they've created from themselves and people gotta align their truths."
He doesn't seem to care about potentially losing patrons either.
"You attract who you're supposed to attract and I'm in the process of attracting what I am and repelling the people who I don't want around me," he explains. "I only have peace and love [to give] and if people don't agree with that, then that's OK. I'm gonna attract who's for me."
He closes his eyes again, content with his answer. I nod my head and stare off into space, until Maya puts a bowl of vegan spaghetti on the counter in front of me. This is nice, I think for a second before the munchies kick in.
Elevated Yogi is located at 2930 E. Jefferson Ave., Detroit; 313-444-9264; elevatedyogi.com.
Stay connected with Detroit Metro Times. Subscribe to our newsletters, and follow us on Google News, Apple News, Twitter, Facebook, Instagram, or Reddit.