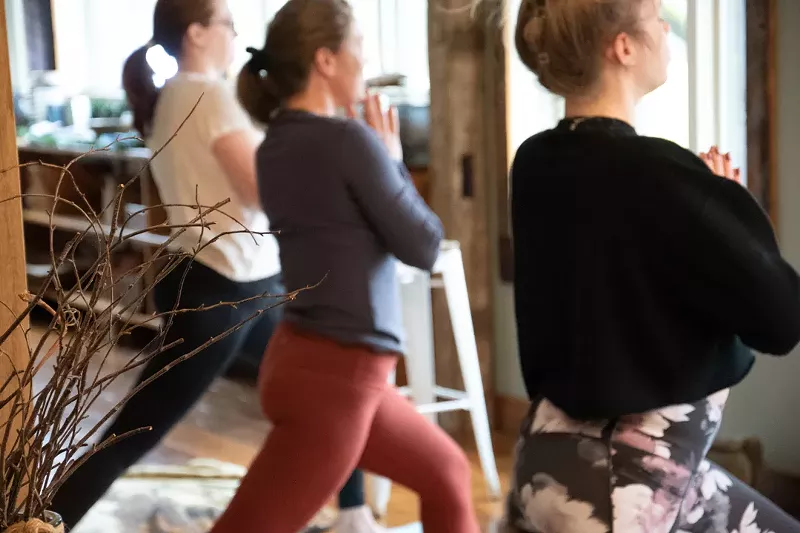 Cannabis has become a popular way to relieve stress and anxiety.
Now you can take that relaxation to a new level with a cannabis retreat.
MoodRXtreats
, a new cannabis retreat company, is hosting a three-day getaway for women on a luxurious estate in Hopkins, a rural town about 175 miles from Detroit on the west side of the state, from June 2 to June 4.
Set on 40 acres with streams, hiking trails, and a hot tub, the retreat offers women an opportunity to relax with cannabis-inspired activities from wake-and-bake yoga and a drum circle to hiking and journaling.
Guests will be treated to a fully stocked bud bar with flower, prerolls, edibles, terpene shots, and vape pens.
A chef will prepare terpene-infused breakfasts, lunches, and dinners.
"I have truly curated this program to make it one-of-a-kind for people," MoodRXtreats founder Holly Teegarden tells
Metro Times
. "It's a really fun weekend. We strip away all the bullshit that we deal with in our everyday lives, and you're able to be yourself with zero judgment."
Teegarden, who owns a hemp dispensary in Pittsburgh, says she came up with the idea as a way to blend cannabis, wellness, and travel into a unique, unforgettable experience in a safe environment.
Although recreational cannabis is becoming more popular and accepted, she says many women, especially moms, whom she calls "cannamoms," are hesitant to "come out of the green closet." The retreat, she says, offers women a safe space to enjoy cannabis without judgment.
"As a cannamom, there is such a stigma," Teegarden says. "No one wants to come out of the green closet as a cannamom."
The retreat is for cannabis newbies and veterans, she says.
"It's a safe space," Teargarden says. "It's like a hug. People are in jeans and sweatpants the whole time."
Her company held its first retreat in Clymer, New York, in March, and she says her guests had a great time and made lifelong friends.
Each retreat costs between $900 and $1,200, which can be paid at once or in three payments. For more information, see
moodrxtreats.com
.
Coming soon: Metro Times Daily newsletter. We'll send you a handful of interesting Detroit stories every morning. Subscribe now to not miss a thing.

Follow us: Google News | NewsBreak | Reddit | Instagram | Facebook | Twitter