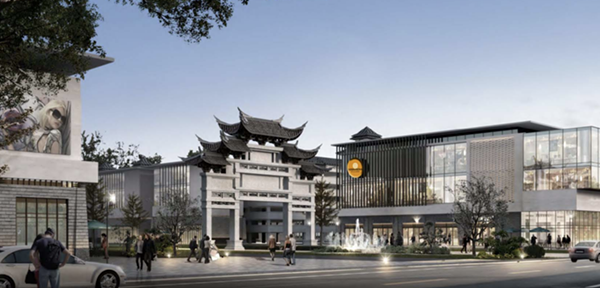 The Ypsilanti City Council will turn over
the China trip investigation
to the Michigan State Police and will not censure mayor Amanda Edmonds.
At its April 17 meeting, council voted 4-1 to turn the investigation over to authorities and 3-2 for a resolution to censure Edmonds. But the resolution needed four votes to pass.
Council members Brian Robb and Lois Richardson voted against censure, while council members Beth Bashert, Pete Murdock, and Dan Vogt voted in favor. Richardson was the lone vote against turning the investigation over to the police.
Unless the MSP find any wrongdoing, the resolutions could mark the last major development around the International Village project and China trip scandal.
The votes followed recommendations made by an independent attorney hired to investigate
who paid for a trip to China
taken by Edmonds and three other city officials.
The independent attorney, Ed Plato of Plato law, found that Edmonds, former economic development director Beth Ernat, and Troy-based developer Amy Xue Foster acted unethically — and perhaps criminally — when Foster paid for a trip to China for the four city officials.
Ernat and Edmonds led city council and the public to believe that the Wayne State University Chinese Scholar and Student Association funded the Sept. 21 through Oct. 2 trip to Beijing. A September
Metro Times
investigation into the funding source found that to be untrue. Last week, Plato provided evidence that Ernat and Edmonds both knew prior to leaving that the student association did not pay for the trip. Edmonds also previously said she knew the student association didn't fund it, but she didn't have time to tell council members before she left.
Between airfare and other expenses, the cost is estimated at around $40,000.
Censure
Several days ago, a majority of council members said they supported
censuring Edmonds
. But in the end, one of her political adversaries — council member Robb — opted not to take that step.
Robb expressed reluctance to do so because it involves "punishing someone because they weren't good at their job."
According to city documents, censure is "a reprimand by city council showing express, severe disapproval of an action." There are no other punitive measures attached to the action.
The resolution before council on Tuesday stated that the investigation's findings "show the actions and inactions of the mayor do not comport to the ethical standards of conduct laid out by the charter and Code of Ordinances for the city of Ypsilanti."
But Robb told council that he didn't think a censure was appropriate.
I wish we could table this forever. The point has been made," he said.
Richardson said she couldn't censure Edmonds without also punishing police chief Tony DeGiusti and mayor pro tem Nicole Brown, who also went on the trip and claimed to know nothing of the funding source.
In recent days, Edmonds has claimed that she was misled by Foster and other city officials, and argued that the report doesn't show that she didn't anything wrong.
"The report reaffirmed that everything I knew or understood was already shared with council and public last fall, and that my actions did not violate the city ethics ordinance or state law around conflict or interest or gift acceptance," Edmonds wrote in a statement.
But the report did accuse her of acting unethically and labeled her story "questionable." Still, council member Bashert said she didn't think Edmonds intentionally did anything wrong, but instead had serious lapses in judgment. Bashert told council she wished "the mayor had accepted a little more responsibility for these lapses in her statement. She made mistakes. She did not do anything that was malicious or intentional, and I do not agree with [bribe accusations], but I think it was neglect or hubris at best."
"Mistakes were made and something has to happen. I would urge her to consider this a speeding ticket — a big speeding ticket," Bashert added. "It cost the city, it undermined trust in the city, and it cost this council time, effort, and credibility, and this is a way we can gain back part of that."
Vogt said he sees no evidence that Edmonds did anything intentional or "with evil intent." But he said she did have a duty to follow up on the funding source, and she didn't do that.
"I agree with [Bashert] that she did fail in her duty on this matter when [city attorney John Barr] very specifically and bluntly said 'You need to be extremely careful in this measure,'" Vogt said. "She's not a bad person, she made a bad mistake. This is appropriate, it's not overblown, and this should be the end of it."
Plato stated in his report that it appeared Edmond's motivation in attempting to get to the bottom of the funding question had to do with optics and nothing to do with a genuine concern to ensure that she was acting appropriately.
"Mayor Edmonds testified that she [attempted to learn the funding source] not because she was concerned about where the funding had come from, but because she anticipated public scrutiny on the issue," Plato wrote.
he detailed why
. Edmonds' story about what she knew changed
multiple times
since it was revealed that the student association didn't pay for the trip.
Turning the investagtion over to the Michigan State Police
The remainder of the investigation will be handled by the MSP.
In his report, Plato wrote that Ernat and Edmonds could be in violation of the state's misconduct in office law. Plato also recommends the city pursue felony bribery and resisting or obstructing officer in discharge of duty charges against Foster. He recommended the MSP look into the cases.
Richardson said she cannot support the recommendation and report because Plato didn't speak to police chief DeGiusti and Mayor Pro Tem Brown, who she also feels deserve some blame.
"I do believe that they were wrong in going without searching out where the money came from," Richardson said.
She also questioned why city manager Darwin McClary wasn't implicated.
"The city manager should be the keeper of the city," Richardson said. "I read that there were things that came to him, brought to him, things that he observed that he didn't follow up on ... I believe [McClary] should have questioned the trip more."
She added that she doesn't want to continue the investigation and prefers to move on from the mess.
Vogt responded that he feels that the MSP will explore the case further and determine if DeGiusti and Brown did anything wrong.
Robb said council hired a professional to do a job and "we would be remiss not to follow their recommendation." However, that logic apparently didn't apply to the recommendation to censure.
Plato recent;y provided credit union surveillance video and banking records that showed that Foster paid for the trip. He also revealed that Ernat repeatedly lied to the public. Ernat
is no longer employed by the city
after it didn't renew her contract two weeks ago.
The International Village project died a slow death in the final months of 2017 after the
Metro Times
story revealed that the student association hadn't paid for the trip.
(Ed. note: A previous version of the story stated that council member Murdock voted against censure. He voted for censure. The resolution failed because it needed four votes in favor to pass.)
Stay on top of Detroit news and views. Sign up for our weekly issue newsletter delivered each Wednesday.