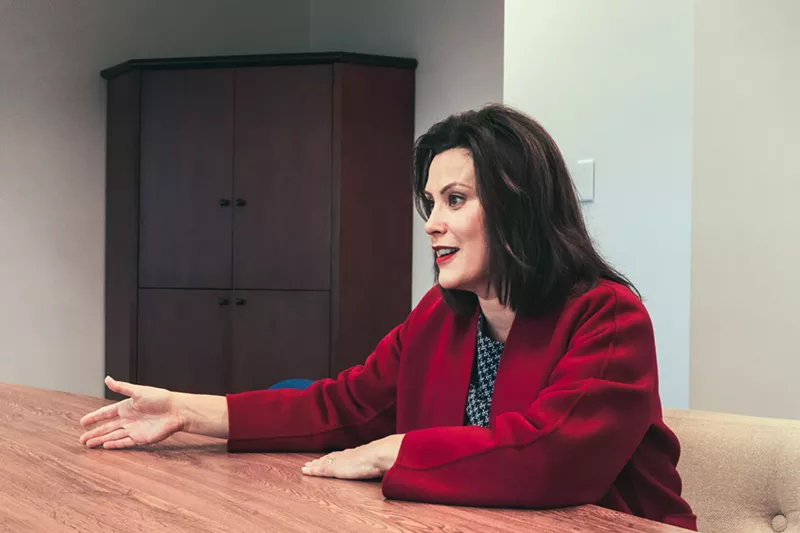 Gov. Gretchen Whitmer was interviewed on MSNBC Monday about abortion-restricting legislation she is expected to veto.
The Michigan Legislature voted Tuesday to prohibit abortion by dilation and evacuation — commonly referred to as D&E — in the second trimester, excluding instances where it would save a woman's life, with a 22-16 majority in the Senate and a 58-51 majority in the House. Although Whitmer has vowed to veto the legislation, anti-abortion activist group Right to Life is working to circumvent the need for her signature by setting a citizens' initiative in motion.


"Last week both chambers of the Michigan legislature — Republican-controlled — passed bills to outlaw a procedure known as dilation and evacuation," Whitmer said on MSNBC Live. "This is a safe medical procedure that has saved women's lives, that has protected their reproductive ability in the future, and that is now under attack in Michigan."
The state has largely been left out of the national news cycle as the focus has turned mainly to Georgia and Alabama, where similar bills have become law. However, eyes have turned to the state as a metro Detroit Right to Life office was vandalized on Friday and Republican state Senator Kim LaSata was quoted as saying abortion "should be hard, and the procedure should be painful" in response to concerns regarding patient comfort without D&E following the legislature's vote to ban the procedure.
Whitmer also highlighted Attorney General Dana Nessel and Secretary of State Jocelyn Benson, who ran alongside Whitmer on a historic all-female executive ballot in November. She said her executive team is committed to upholding abortion rights.
"The good news is we've got three pro-choice women at the top of state office here in Michigan, and we are all absolutely committed to protecting a woman's right to choose," Whitmer said. "And so my veto pen is ready when they send those bills to my desk."
Whitmer called the legislation a distraction from other important issues, like fixing the roads and ensuring clean drinking water.
During the segment, news anchor Hallie Jackson played a clip of South Carolina state Rep. Nancy Mace sharing her story in the chamber about her own experience with sexual abuse. Whitmer said sharing stories humanizes the issue.
"So many of these decisions are made in a vacuum with a bunch of men sitting around a table deciding what a woman's rights should be, what our access to health care, trying to control women by controlling our bodies. And the fact of the matter is that, sadly, legislators like the one you just played, or me, when I was in the legislature, have to go to the microphone to tell our most personal, sad, the toughest stories, because we want to put a face on this," Whitmer said. "This is not just an issue in a vacuum. This is about families and women and our rights and our autonomy, and that's why it's so important that women are standing up and our male allies as well."
In 2013, Whitmer shared her story of sexual abuse in the Michigan Senate chamber while advocating against a "rape insurance" measure that would require women to purchase a separate insurance rider to cover abortions, even in instances of rape or incest.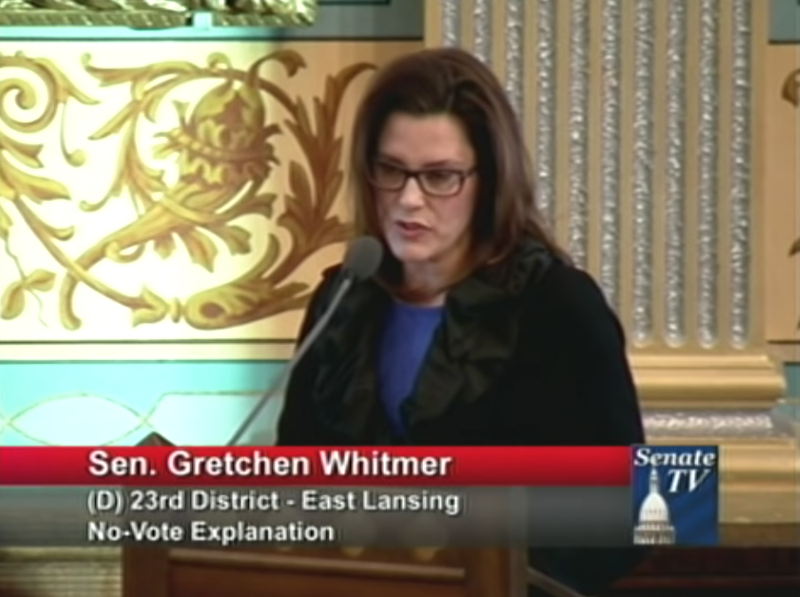 Whitmer began this speech by reading from a prepared statement, but put her papers down after seven minutes and began discussing her rape for the first time. While the legislation passed despite her efforts, she said the next day when her inbox was flooded with messages of support she realized she added her voice to "a conversation, a cultural change that's long overdue."
As Right to Life presses forward with its citizens' initiative, Whitmer encouraged viewers to look at the issue through both a legal lens and through the eyes of women, who she said are often left out of the conversation.
"This is about control and autonomy and freedom. It's not about anything other than that, no matter what they say, and that's why we share our stories, even if it's the most painful, vulnerable way to go to a microphone," Whitmer said. "It's critical that people understand the real-world impacts of cruel, poorly informed laws like the ones that are being passed in various states and the one being debated here in Michigan, too."
Here's a video of Whitmer's full MSNBC interview:



Stay on top of Detroit news and views. Sign up for our weekly issue
newsletter
delivered each Wednesday.