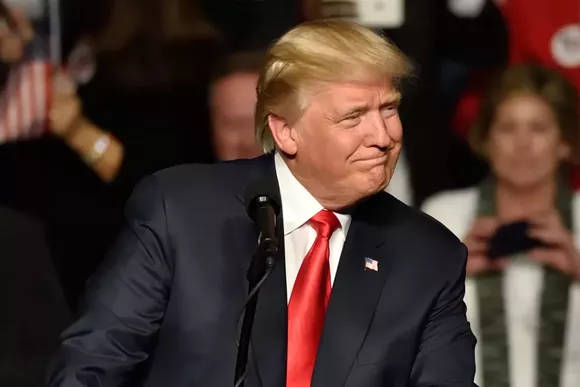 It comes to no surprise that that the White House is going to cut funding from the Environmental Protection Agency since Scott Pruitt was appointed the Administrator of the department, a person who
doesn't really seem to care
about global warming and climate change.
One of those cuts from the EPA is coming down on the Great Lakes, according to a
budget document
obtained by the National Association of Clean Air Agencies.
The cuts will basically eliminate the Great Lakes Restoration Initiative's
annual funding
. The GLRI receives $300 million, but the cuts will slash it to $10 million.
The GLRI does important work like restoring wildlife habitats, combating invasive species, and cleaning up watersheds that become polluted.
The cuts hit hard for many Michiganders as they feel that the Great Lakes are iconic to the Michigan way of life. Many people took to social media to vent their frustrations.
This piece of shit deserves to drink Flint water for the rest of his rotten life.#MAGA by trashing the #GreatLakes ? #Trump is scum. https://t.co/eD5Ee1bJAr

— (((Victoria))) (@VictoriaSC91) March 3, 2017
"Great Lakes" whoa whoa whoa um no trump my fucking lake needs some love come on now i was starting to hate you an atom or so less

— /pan/demonium (@Funkybanana4) March 3, 2017
The Clean Water Act cleansed Lake Erie inside of 10 years. Dismantling the EPA and enforcement can ruin the Great Lakes in the same time.

— Lynn G. Henning (@Lynn_Henning) March 3, 2017
Some people even pointed out that the Great Lakes region won Donald Trump the election.
Remember when Michigan went republican and now trump is cuting 97% of EPA funding for Great Lakes! THE LARGEST FRESH WATER SOURCE IN US!!!!!

— Julia Laing (@julialaing_) March 3, 2017
@realDonaldTrump Why have you cut 97% of EPA funding for the Great Lakes? That's the area that gave you the election.

— Dave Hogg 📎 (@Stareagle) March 3, 2017
To the MI Trump supporters: anti-pollution funding for the Great Lakes will drop from $300 mil to $10 mil. New name: Not So Great Lakes

— Cheryl Styczynski (@cherylsty0120) March 3, 2017
Another Twitter user pointed out that the amount of money spent on Trump visiting Mar-A-Largo is the sum of the money being spent to protect the Great Lakes now.
Four weekends = amount now budgeted for Great Lakes cleanup. https://t.co/DhWKUKuuxn

— Yvonne Dean (@Frazzling) March 3, 2017
Senator Debbie Stabenow
called
the GLRI cut "outrageous" and went on to say "our Great Lakes are part of our DNA and an important driver of our economy in Michigan and I call on President Trump to reverse course on these harmful decisions."