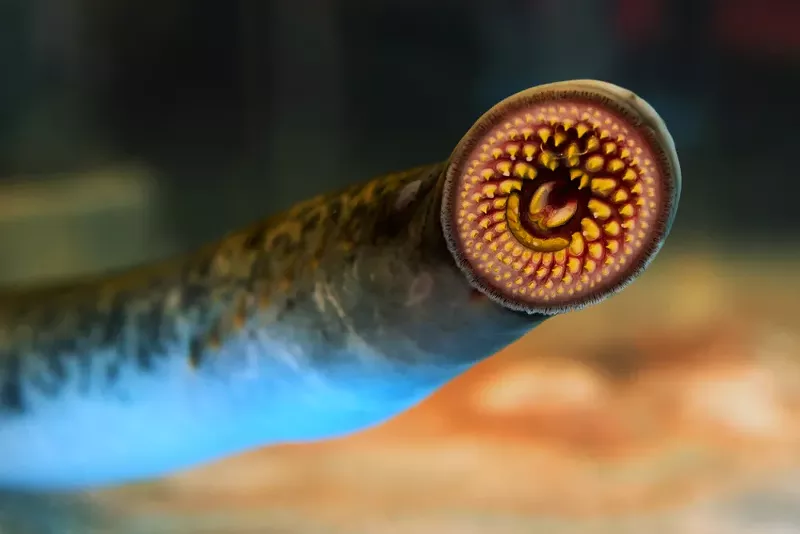 The monster pictured above isn't an extra from the last
Alien
movie, but it is the thing of nightmares.
It's a sea lamprey — an eel-like, parasitic invasive species that has decimated local fish populations by boring into them with those creepy Saarlacc-like teeth. And ever since the Atlantic Ocean native species first infiltrated the Great Lakes in the early 20th century, Michigan's lakes and rivers are teeming with them.
Exactly how many of these squiggly little bloodsuckers are slithering around our waterways is hard to say, which is why the U.S. Fish and Wildlife Service is set to do an official assessment of the Detroit and Huron rivers in the coming weeks. From May 29 to June 7 crews will use a chemical to drive the lampreys out into the open where they can be counted. The results of the assessment will then be used to determine if the populations should be controlled with pesticides, the
Detroit Free Press
reports
.
The U.S. Fish and Wildlife Service says the lampricides "pose no unreasonable risk to the general population and environment when applied at concentrations necessary to control larval sea lampreys," but advises the public to minimize unnecessary exposure. Fishers who use stream water to confine bait fish are advised to use an alternate water source at this time.
Stay on top of Detroit news and views. Sign up for our weekly issue newsletter delivered each Wednesday.