This mayoral election season, Detroit Mayor Mike Duggan has been hard at work dispelling the notion that he neglected the city's neighborhoods during his first term in favor of spurring development in the city's affluent mid- and downtown.
There have been at least weekly announcements of some initiative or another aimed to help struggling Detroiters in the city at large, with some appearing undoubtedly beneficial (yesterday's unveiling of the newly upgraded Randolph Vocational Center, where an expanded skilled-trades training program will get 1,800 people job-ready in three years) and others looking as if they may be no more effective than a wet band-aid (this month's announcement that the city will spend
$5 million boarding all vacant homes
not slated for rehabilitation or demolition in the near term).
One of the latest tools to come out of the mayor's office is one whose merits have been hotly contested: An first-of-its-kind government-run news website in which city employees are paid to "tell the stories of Detroit's neighborhoods."
"If you don't at least smell trouble there, your nose isn't working,"
Free Press
columnist Nancy Kaffer wrote after the site's coming was announced in May. Area P.R. man Matt Friedman noted the site has popped up amid an information gap left in the wake of cuts to the news industry, telling the
Detroit News
that while organizations have started to look for ways to tell their own stories,
"It's a great irony that the city of Detroit coming out of bankruptcy is spending funds in this way
when businesses won't."
And yet, even when considering the timing of the site's launch, even when considering the fact that the four-person team behind the website is getting paid a total of about $200,000 a year, with additional funds going toward equipment and freelance work — when
the site
went live Tuesday, almost all criticism was cast aside.
https://t.co/LPtNqFcyIk not just feel good stories. There's data for each Detroit council district, contact info & useful neighborhood maps. pic.twitter.com/mcflgT1B7M

— Chad Livengood (@ChadLivengood) August 29, 2017
Crain's Detroit's
Chad Livengood took to Twitter to declare the website more than just fluff. His colleague, Kirk Pinho, spent part of his night diving into the site's data portal, sharing a dotted map depicting places where building permits have been issued. This writer, meanwhile, found herself fixated on a map of blight tickets.
Deadline Detroit
's Alan Stamm praised "The Neighborhoods" website's content and layout, saying it
benefits "from creativity, narrative chops and lifelong Detroit love."
The site was built by "Chief Storyteller" Aaron Foley — a 32-year-old who
served as editor of Blac Detroit
before taking his current role with city government — web editor Kinsey Clarke, and two others. So far it consists of yet-to-be populated pages for each of Detroit's roughly 200 neighborhoods, a "Detroit voices" page where stories will be published, the data portal, and other informational resources.
The two stories published for Tuesday's launch are engaging reads about a longstanding, family-owned roller
skating rink in Southwest Detroit
, and a domestic abuse victim's "life-saving" purchase of a
$2,500 house in Brightmoor
. Though the stories are largely positive and uplifting, they hardly ignore the dynamics of the city from which they spring; the domestic abuse victim grew up poor and was shot by her boyfriend before buying the house, and the owner of the RollerCade is quoted as saying he could "go on for days" about the problems in the area.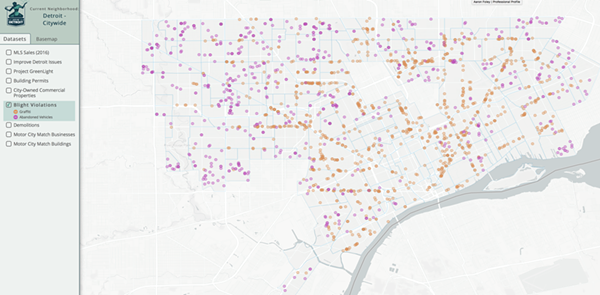 As was expected, the site does include some P.R.-like elements. As
Deadline Detroit's
Stamm aptly noted, on a citywide profile page, "the tone shifts from storytelling to boosterism about 'an influx of new residents and unprecedented economic development and reinvestment.'" He added that phrases like "equally attractive are Detroit's vibrant neighborhoods with considerable affordable housing options and strong community participation"
are evocative of "a Realtor's voice and Chamber of Commerce Cheerleading."
But it's a small price to pay for all of the newly accessible information and the community building the neighborhood pages will allow. As for whether the larger, almost quarter-million-dollar-a-year price to staff and run the site is worth it — that's up to Detroiters to decide. The budget does not come out of the city's general fund, but from revenues derived from fees passed down to Detroit cable customers.
This story has been updated to reflect that the funding for the Neighborhoods website will not come out of the city's general fund, but from Comcast public, educational, and government grant fees, which are revenues derived from the city's cable TV franchises.