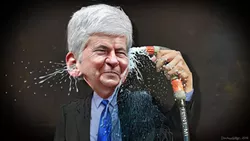 Nearly $6,500 a day in taxpayer dollars are going to a legal firm representing Gov. Rick Snyder in civil lawsuits surrounding the Flint water crisis, reports the
Detroit Free Press
's Paul Egan.
According to Egan, this high daily fee was calculated based on the fact that the Governor spent nearly $400,000 — the max amount promised in the contract with the firm — in just February and March.
"Barris, Sott, Denn & Driker of Detroit, hired to represent Snyder in connection with a raft of Flint civil lawsuits in which he is named as a defendant, billed the state $343,702 between Feb. 8, when the firm started work, and March 31, according to records obtained by the
Free Press
under Michigan's Freedom of Information Act," writes Egan, who points out that if billing continued at the same rate after March, the contract cap of $400,000 would have been surpassed by April 11.
"That means Snyder's total outside legal fees charged to the state will almost certainly exceed the $1.2 million quoted in March," writes Egan, who also points out that this is just for civil cases. The governor has a separate contract with Warner, Norcross & Judd for the criminal suits that have been lobbed against him, and that contract maxes out at $800,000.
As Egan points out, there is some controversy around Snyder using tax dollars for these Flint-related lawsuits. 'Wouldn't it be more appropriate to pay these outside firms with campaign funds or non-taxpayer dollars?' ask critics, who tend to also suggest the governor easily could have used state attorneys from the attorney general's office.
Of course the governor doesn't see it this way. As Egan writes, "Snyder says the legal fees arise directly from his official actions as governor and it is appropriate to charge them to the state."
In April, Barris, Sott, Denn & Driker
filed a complaint
stating that a January 2016 civil suit filed against the governor should be dismissed because the 10 plaintiffs failed to meet a six month deadline following the "cause of action."
"Plaintiffs did not give timely notice of their claims. There is no legal basis for extending the notice period," the complaint read in reference to a January 19 suit seeking "compensatory damages" for those affected by the Flint water crisis. It named Snyder, former emergency managers Darnell Earley and Jerry Ambrose as defendants, as well as the Michigan Department of Environment Quality and the Michigan Department of Health and Human Services.
The complaint filed by the governor's taxpayer-funded lawyers, however, argued that since the Flint water crisis began in April 2014 when Flint connected to the Flint River as water source, the January 2016 filing was too late (it, of course, didn't mention the fact that Snyder did not publicly acknowledge a crisis in Flint until October 2015).
For more information of the FOIA request sent by
Freep
— and the amounts various lawyers at the firm received — check out the full article
here
.