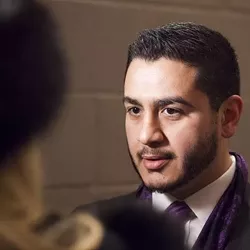 Attorneys for the state of Michigan are asking a judge to dismiss a request by gubernatorial candidate Abdul El-Sayed for a decision on whether he's eligible for the ballot.
In a court filing submitted Tuesday, attorneys representing Secretary of State Ruth Johnson said El-Sayed's request for judgment was "premature" because no one had challenged his eligibility yet. El-Sayed was acting on a recommendation from the Michigan Democratic Party when he asked a judge to weigh in.
Bridge Magazine
reported that he was registered to vote in New York as recently as 2015. According to Michigan's constitution, a gubernatorial candidate must "have been a registered elector in this state for four years next preceding his election." El-Sayed has said he was still a resident of Michigan while he was in New York working at Columbia University.
In asking for a dismissal of his request, the state's lawyers said El-Sayed failed to show an "actual controversy" sufficient for a judge to rule on his eligibility.
"Neither Secretary Johnson nor anyone else within the Department of State has taken any action, or hinted at taking any action, adverse to Plaintiff's candidacy," lawyers for the state wrote, noting that the Bureau of Elections has processed El-Sayed's petition signatures to get on the ballot as usual.
"The controversy, such that there is one, is the creation of the media and the Michigan Democratic Party," lawyers for the state said.
In a news release sent out after the ruling Tuesday, El-Sayed's campaign cast the filing as proof that El-Sayed is eligible to run.
"In their move to dismiss the case, they have asserted, clearly, that this is a manufactured controversy — vindicating what we have been saying all along," campaign chair Adam Joseph said in the statement.
A statement from the Michigan Democratic Party indicated that they would not punish El-Sayed for failing to get a judge to rule on the issue.
"This is a positive step forward that allows all of our great candidates to stay focused on the issues that really matter to the people of Michigan and keeps the Democratic Party concentrated on winning in November," said MDP Chair Brandon Dillon.
El-Sayed, a Muslim and Detroit's former health director, has drawn national attention in his bid to become Michigan governor, but is polling in the single digits in a race featuring more recognizable candidates like former state Sen. Gretchen Whitmer and
businessman Shri Thanedar
. El-Sayed supports single-payer health care and free college tuition for people from middle- and low-income households, among a number of progressive policies that align with those supported by former Democrat presidential candidate and Vermont Sen. Bernie Sanders.
Stay on top of Detroit news and views. Sign up for our weekly issue newsletter delivered each Wednesday.