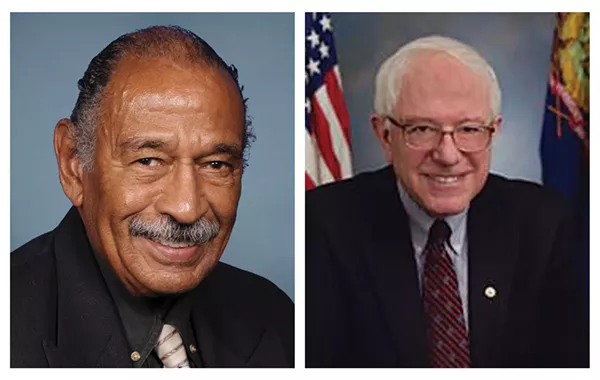 Congressman John Conyers (D-MI13) and Senator Bernie Sanders (D-VT) are set to talk jobs and health care tonight at a town hall in a church on Detroit's west side, with plans for a single-payer system expected to dominate the conversation.
Conyers has introduced a "Medicare For All" bill that, with 117 co-sponsors, is the first single-payer bill to ever have the support of the majority of Democrats in the chamber. Sanders, meanwhile, has said he intends to introduce a single-payer bill in the Senate.
With the legislative and executive branches of government controlled by Republicans, the bills are likely to go no where, but they will at least kickstart a conversation on how to insure the remaining 28 million uninsured Americans and overhaul a health care system that Sanders says is designed "not to provide quality care in a cost-effective way, but to make maximum profits for health insurance companies, the pharmaceutical industry, and medical equipment suppliers."
The case for a single-payer system has been made before – Conyers has introduced a "Medicare For All" bill in every legislative session since the early 2000s and Sanders made it an issue during last year's Democratic presidential primary — but
it's receiving renewed attention
amid repeated Republican efforts to dismantle the Affordable Care Act, which both sides of the political isle agree has its shortcomings.
Sanders made the case for "Medicare for all" plan in an
op-ed published yesterday
in a variety of media outlets:
Today, we have the most expensive, inefficient, and bureaucratic health care system in the world. We spend almost $10,000 per capita each year on health care, while the Canadians spend $4,644, the Germans $5,551, the French $4,600, and the British $4,192. Meanwhile, our life expectancy is lower than most other industrialized countries and our infant mortality rates are much higher.
Why as a nation are we spending more than 17% of our GDP on health care, while nations that we compete with provide health care for all of their people at 9, 10, or 11% of their GDP? Is that sustainable? What impact does that have on our overall economy?
Richard Master is the owner and CEO of MCS Industries Inc., the nation's leading supplier of wall and poster frames—a $200 million a year company based in Easton, Pa. "My company now pays $1.5 million a year to provide access to health care for our workers and their dependents," Master told Common Dreams. "When I investigated where all the money goes, I was shocked."
What he found was that fully 33 cents of every health care premium dollar "has nothing to do with the delivery of health care." Thirty-three percent of his health care budget was being spent on administrative costs.
"I came to realize that insurers comprise a completely unnecessary middleman that not only adds little if any value to our health care system, it adds enormous costs to it," Master said.
The single payer bill introduced by Conyers in the House would be paid for with a 5 percent personal income tax increase for higher earners, new taxes on investment income and financial transactions, and a new tax on worker payroll.
Critics have cited existing problems with Medicare
among the plan's pitfalls. One opinion piece in
Fortune
says Medicare "has generated reams of costly regulations, shifted administrative costs to doctors and other medical professionals, and burdened taxpayers with tens of trillions of dollars in long-term obligations." Separately, the
Huffington Post
notes that Conyers' bill
does not specify
the levels of all new taxes, or the earnings thresholds where they would kick in. One economist's analysis apparently found it could wind up taxing households earning as little as $225,000 by 6 percent, while the payroll tax would levy new 3 percent or 6 percent taxes on employers of all workers.
Conyers and Sanders hold their health care town hall tonight at 7 p.m. at Fellowship Chapel Church on 7707 W. Outer Drive. Doors open at 5:30 p.m, with limited seating for the event.