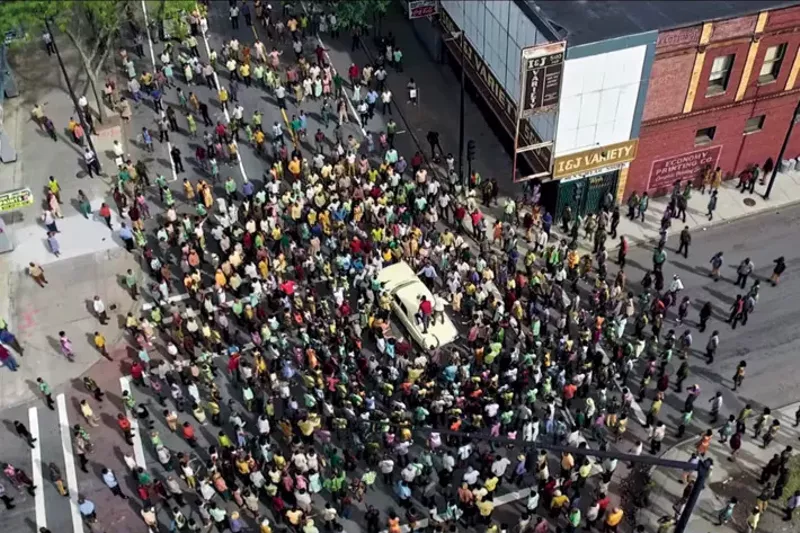 As we all know by now, the Algiers Motel Incident — the story at the center of the recent film Detroit — ended with the acquittals of the police and co-defendants. That outcome provoked especially bitter reactions among black Detroiters.
In fact, when H. Rap Brown, organizer for the Student Nonviolent Coordinating Committee, spoke to a crowd of 5,000 listeners in Detroit, he called for a "people's tribunal." That call was taken up by two of Detroit's black political radicals, Dan Aldridge and Lonnie Peek . The event took place Aug. 30, 1967, at the church of the Rev. Albert Cleage. The event was advertised by fliers distributed by the Citywide Citizens' Action Committee, inviting Detroiters to "watch accurate justice administered by citizens of the community."
Many of the people who'd become members of Detroit's political, religious, and legal establishment were involved in the tribunal, including Kenneth V. Cockrel Sr. and Carolyn Cheeks Kilpatrick. It wasn't simply a kangaroo court: Lawyers for the "defendants" did their best, and when the jury found the defendants guilty, all who watched the proceedings knew exactly what the verdict meant.
The spirit of that tribunal gets a reprise this week with an event at the Charles H. Wright Museum of African American History. It's a panel discussion commemorating the tribunal on its 50th anniversary, involving many of the same people who were there, including the Rev. Dan Aldridge, the Rev. V. Lonnie Peek, Dorothy Dewberry Aldridge, Ed Vaughn, and Frank Joyce.
Also, as a flier for the event proclaims, the discussion will include a "critique" of the Kathryn Bigelow's Detroit. We sort of thought it could be a sort of people's tribunal on the film, given
Joyce's recent scathing review of the film
.
It sounds like it should be an interesting discussion, both for people who lived it and for younger folks who might want to get past Hollywood's portrayal of the summer of 1967 and get a little closer to the truth.
The 50th Anniversary of the People's Tribunal will take place 6-8:30 p.m. Wednesday, Aug. 30, in the General Motors Theater, the Charles H. Wright Museum of African American History, 315 E. Warren Ave., Detroit; call 313-494-5800 for more information; free and open to public.