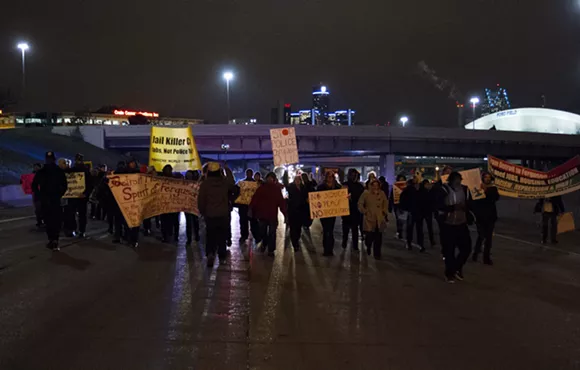 Last night, hundreds took to the streets across Detroit following the decision of a grand jury to not indict the white police officer who shot 18-year-old Michael Brown.
From Wayne State University, to I-75 and I-94, to eastside police districts, the rallying cry centered on a call for justice, after the St. Louis County, Missorui grand jury declined to indict Darren Wilson, the officer who fatally shot Brown 10 times this past August.
And, by most accounts, a tip of the hat should be given to local law enforcement agencies — Michigan State Police, Wayne State University officers, and the Detroit Police Department — who respected the demonstrators desire to make their voices heard on some of the region's busiest roadways. It was an effort,
as the Detroit Free Press
put it
, "in contrast to places like Ferguson. Police escorted a few of the protests, allowing demonstrators to walk on the streets and speak their minds."
When a group moved toward I-94, officers detained a handful of demonstrators, the
Detroit
News
reports
.
During a protest at WSU, a student pursuing an education major told the
News
the incident in Ferguson left him feeling scared for his safety.
"I felt I could be walking down the street and be killed and nobody would pay for it," Marcus Hester, 25, told the newspaper. "I'm not scared of a whole lot. I was scared."
A rally held
earlier in the evening at Hart Plaza
also attracted a sizable group, the
Freep
reports. A protest of about 40 was held by the Michigan chapter of the National Action Network at noon outside the federal courthouse on W. Lafayette