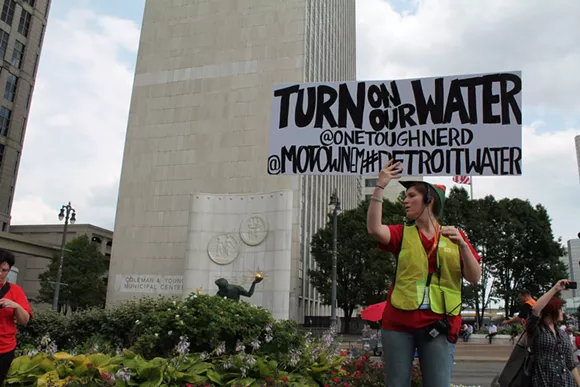 Members of advocacy groups opposed to Detroit's controversial water shut-offs will appear next week on Jon Stewart's "The Daily Show."
Members of the Detroit Water Brigade and Water Warriors will appear during a segment on Stewart's Monday, Nov. 17 broadcast at 11 p.m.,
the brigade writes in a blog post
. A screening will be held at 10:00 p.m. that same night at Anchor Bar in Detroit at 450 W. Fort St., according to the post.
Anyone interested in attending the screening is asked to RSVP
here
.
Since this past March, Detroit Water & Sewerage Department (DWSD) has drawn international attention for the scope of it's shutoff initiative alone: estimates suggest upwards of 1,500 homes per week are losing water service due to nonpayment. DWSD has gone after residents who are 60 days overdue or hold $150 in past-due fees.
DWSD's aggressive campaign
drew months of demonstrations
, a
shakeup in DWSD's governance structure
, a heated hearing
before the bankruptcy judge overseeing Detroit's bankruptcy case
, and
a public town hall forum with representatives of the United Nations.
Update (11 a.m., Monday, Nov. 17, 2014): Per Justin Wedes, of the Detroit Water Brigade, the screening location has been moved to the Anchor Bar and the start time was moved to 10 p.m.)