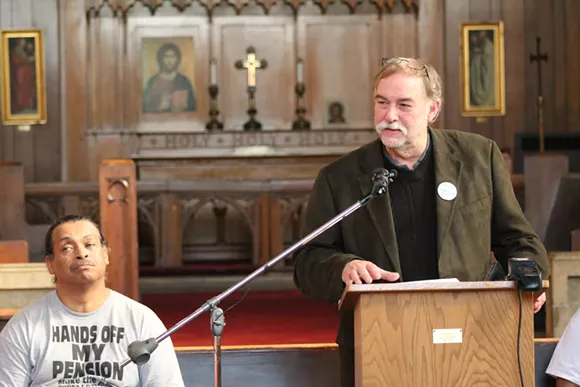 Last Friday, inside the federal courthouse on Lafayette in downtown Detroit, the mood was upbeat: U.S. Bankruptcy Judge Steven Rhodes signed off on the city's plan to emerge from municipal bankruptcy. The plan intends to shed some $7 billion in long-term debt for the city, about 80 percent of which appears to be shouldered by the city's retirees.
Rhodes' decision kept intact Emergency Manager Kevyn Orr's proposal to spin off control of the Detroit Institute of Arts to a newly established nonprofit, and use $660 million in funds from foundations, the state Legislature, and the museum to lessen the cuts to city pensioners' monthly checks.
The DIA is an "invaluable beacon of culture," Rhodes said during a 110-minute oral ruling. It wasn't an entirely cheery affair, however. When Rhodes thanked Orr for his efforts over the last 19 months, a retiree seated in an overflow room stood up and shouted, "Oh, my god!" She then proceeded to leave.
Afterward, during an hour-long press conference, numerous elected officials praised each other for what seemed like an "attaboy!" moment that would never end.
"To put it simply, Detroit has a bright future now," Republican Gov. Rick Snyder, who appointed Orr in March 2013 and approved Detroit's bankruptcy petition, said during the presser.
But if you ask the Detroiters Resisting Emergency Management (D-REM), it's unclear what Detroit Snyder is actually talking about.
On Monday, members of D-REM, a coalition of Detroit social justice and advocacy groups, held a press conference to push back against the congratulatory sentiment shared by Snyder, Orr, Mayor Mike Duggan, and local media. (One of the city's consultants, Conway MacKenzie, was so excited about the bankruptcy's conclusion, that it decided to "congratulate" Detroit in a full-page New York Times ad, which touted the firm's "success" as a municipal restructuring adviser. The city has reportedly paid Conway over $17 million for its services in the bankruptcy.)
In short, D-REM's point was this: While the fast pace of the bankruptcy trial helped Detroit shed long-term debt, it hasn't helped thousands of retirees who endured cuts to their health care and pension plans.
"I believe Judge Rhodes' legacy is that he gave sanction to illegitimate and unconstitutional government," said the Rev. Bill Wylie-Kellermann, pastor of St. Peter's Episcopal Church on Trumbull Avenue, where the press conference was held. Amid the "scandal and celebrating," the reverend said the city's bankruptcy lent credence to the idea that Michigan's novel emergency manager law worked in Detroit.
William Davis, a member of the Detroit Active and Retired Employees Association, said, "This whole process has been unfair."
Davis says the city's so-called "clawback" of $190 million in interest paid into some retirees' savings accounts has hurt some pensioners more than many realize. For him, with two sons currently working their way through college, every dollar lost hurts him in the long run.
So why shouldn't he fight?
Davis told the room that growing up in West Virginia, he learned to always push back if someone hurts you. And in Detroit's bankruptcy, he said, that's exactly what happened.
The difference between the city's corporate creditors and tens of thousands of retirees is simple, Davis said: For instance, some of the creditors made investments to insure debt.
"But I worked 34 years," he said, and he wants to use his savings to pay for his children's education.
"I don't want to pay my money to Rick Snyder," he said.
During his ruling, Rhodes implored the state Legislature to ensure that pensions of Michigan's municipalities are adequately funded. If not, this ruling would be in vain, he said.
"If the state fails, history will prove that the court's approval was a massive mistake," Rhodes said.
Wylie-Kellermann took it a step further, intoning scripture, while referencing Rhodes, Snyder, Orr, and the city's elected leadership: "All of them will be held accountable for how they have served [the] community," he said.

TO THE SUPREMES
Last week, News Hits was taken aback when an appellate court handed down a decision that sent shock waves through the nation: Bucking the pro-gay marriage movement across the nation, a three-judge panel upheld same-sex marriage bans in four states, including Michigan.
Here, you might recall, voters in 2004 approved a constitutional amendment that defined marriage as between one man and one woman. It's that decision that seemingly led the two-judge majority to issue a rambling majority opinion in keeping the ban in place.
"When the courts do not let the people resolve new social issues like this one, they perpetuate the idea that the heroes in these change events are judges and lawyers," writes Judge Jeffrey Sutton in the majority. "Better in this instance, we think, to allow change through the customary political processes, in which the people, gay and straight alike, become the heroes of their own stories by meeting each other not as adversaries in a court system but as fellow citizens seeking to resolve a new social issue in a fair-minded way."
How noble. Let voters, who have already voted to enshrine discrimination into our state's Constitution, make the call.
In the dissent, Judge Martha Daughtrey slammed Sutton's decision-making process, repudiating everything he wrote, at one point even suggesting our entire system is a joke if the judicial branch cannot resolve such poorly guided decisions.
"If we in the judiciary do not have the authority, and indeed the responsibility, to right fundamental wrongs left excused by a majority of the electorate," Daughtrey writes, "our whole intricate, constitutional system of checks and balances, as well as the oaths to which we swore, prove to be nothing but shams."
The decision splits from rulings in other circuit courts, which overturned similar bans on gay marriage. This almost certainly sets the stage for the U.S. Supreme Court to consider the issue of marriage equality once and for all.