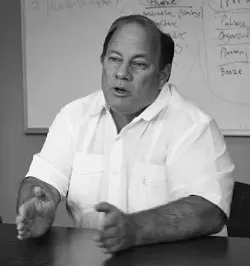 FOR MONTHS, TALK AROUND our little water cooler in the Metro Times newsroom has involved — among discussions of weed, bands and other provocative proclivities — who would make the best choice as Detroit's next mayor; at best, a thankless job made more difficult by unprecedented circumstances befalling the winner of November's election.
Would personality and charisma trump nuts-and-bolts technocratic acumen? Which issues would resonate strongest with voters: tough-on-crime rhetoric or proven ties to the region's business elite? Maybe a generational shift was the order of the day?
In the end, the choice came down to two names well-known to voters: a former county prosecutor renowned for his ability to turn around flailing businesses and a former police chief of a city that is currently experiencing one of the highest crime rates in its recent history.
What does Detroit need? Who can articulate the best plan leading Detroit to a rebirth that will permeate all its neighborhoods and not just the renaissance bubbles percolating around downtown and Midtown?
Who can deliver on the goods versus serving up lofty prose or divisive wedge issues that have carried the day for so many former occupants of the mayoral home on Jefferson Avenue?
The outcome of the August primary and the legal undulations that followed have left us to conclude that MIKE DUGGAN, warts and all, has the necessary skillset to take a broken Detroit and right the ship.
THE RESULTS OF THE August primary were a strong indication to us that the city's remaining 700,000-odd residents — those who have stayed despite the city's wheels coming off; those who have moved in, dreaming of capturing their slice of abandoned greatness; and those who can't afford to leave — have chosen some solid proposals over racial-identity politics, given that eight out of 10 residents are African-American
In fact, outside of his home district and its immediate surrounds, challenger Benny Napoleon lost every single neighborhood in the city's 140-square-miles. It was a pretty resounding rebuke of a campaign that has the air and tone of so many mayoral campaigns that have preceded it.
For those who assail Duggan as a carpetbagger, having moved into the city solely for the purpose of running for mayor — and then fouling up his bid by submitting paperwork too early — we hear you, and understand the sentiment. Of course, the move is not unprecedented and, as the Italian Renaissance writer Niccolò Machiavelli would argue, it's the ends that count, not the means by which they are achieved.
If Duggan had executed a flawless bid for mayor, making it onto the August ballot without nemesis candidate Tom Barrow nipping at his heels, but his message had not resonated with voters, we doubt you would be reading our endorsement for him right now.
Duggan's career has demonstrated his ability to get things done, including the inarguable turnaround he executed of the beleaguered Detroit Medical Center, and it would be foolhardy to dismiss him. His record stands on its own merits, and, as Duggan said in his interview with us, there are many in Wayne County who likely miss the days of balanced budgets that happened partially under his governance.
Duggan also has some positions that appeal to us because they sound progressive. Fighting against state control of Belle Isle, Duggan said he wanted to preserve the park and show an independent Detroit can fund its own assets. Napoleon, however, offered vague plans to develop the recreational island, with entrepreneurs running canoe concessions, golf courses and restaurants, which hark back to controversial plans for turning the island sanctuary into a moneymaking venture for developers.
Duggan also opposed the $2.3 billion expansion of I-94 that will remove bridges linking New Center and Woodbridge to Midtown, a sensible position that few in government have taken.
There may have been a time when Napoleon would make sense as a candidate, somebody who could take a troubled ship and bail the water filling the hold; in this case, taking the form of crime and violence. But Detroit needs more than water bailing, it needs its leaks plugged, and an able administrator like Duggan may just be the one to put this ship in dry dock for the necessary repairs.
While leadership is key, and examples of success important, neither whitewashes some concerns we feel should be addressed. There are many, including us plebes in the MT newsroom, who get a sense that Duggan fancies himself in the mold of yesteryear's classic political machines, like Richard Daly in Chicago or Jimmy Walker in New York. However, the days of machines are gone — Detroit's economy has shrunk and regional authorities, like those controlling the city's ports and its water department, have taken control away from the mayor's office. How Duggan will deal with these regional authorities will be one of his many tests.
Duggan is a graduate of the legendary McNamara political machine, the Wayne County executive whose time in office produced many successful pols, including a former governor as well as several mayoral candidates besides this current one. McNamara earned a reputation for ferocious efficiency that caught the attention of the FBI, but that legendary efficiency never crossed the line enough to garner indictments.
As McNamara's right-hand man, Duggan was the fixer who could get things done. In many ways, that experience is what has led him to the city's doorstep today; his ability to traverse political and economic sensitivities to achieve his goals has served him well.
However, times are different and a Duggan administration based on transparency will be critical for his — and the city's — success.
Our Man, Benny
With great affection and deep ties to the city, including those of his mother — who has lived in the same house since 1960 — there is no question that Benny Napoleon is committed to a Detroit renaissance. As a cop, the thought is if you reduce crime, then everything else will fall into place. There was probably a point in history where that philosophy would have worked. Unfortunately, given Detroit's complicated current set of circumstances, reducing crime is but one of many issues facing the next mayor. As for his plans to have ombudsmen for each square mile, while it sounds good, don't we all already know what the city's main problems are?
And whether or not you agree with the appointment of Emergency Manager Kevyn Orr by Gov. Rick Snyder, it seems unlikely that a court will come in and remove him by judicial fiat. Orr is here, and the best we can hope for is that he will get Detroit's books in order as quickly as possible and ready a transition for the next mayor's administration to inherit control.
However, with at least a year of the EM's tenure still ahead of us, the next mayor will be forced to use his power of persuasion to implement campaign promises that so many voters are hoping come to fruition. Napoleon has made no secret that he holds the EM in contempt. While the position is laudable, its lack of pragmatism is likely a hindrance more than a help. If passion and commitment to neighborhoods were enough, Napoleon would be much further ahead in the polls. Unfortunately, wings and prayers don't win elections, and they won't turn Detroit around.
FOR ALL THE REASONS above, as well as the tens of thousands of citizens of Detroit praying that their time is now, we endorse Mike Duggan for mayor and hope his plans for Detroit's future come to pass quickly.