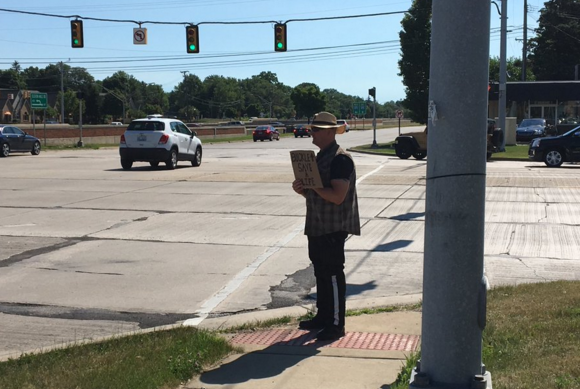 An undercover Michigan State Police officer this week donned plainclothes and held a cardboard sign at a metro Detroit freeway intersection to catch people who weren't wearing their seat belts.
And though the officer certainly looked like a panhandler holding a sign, a Michigan State Police spokesman wouldn't refer to it as that. He also wouldn't say that the trooper was intended to blend in with the setting to catch more violators.
But it certainly worked out that way. MSP says the Tuesday enforcement at the intersection of I-696 and Southfield Road resulted in 89 tickets issued for failure to wear a seat belt. A
Thursday enforcement
effort that did not include an MSP trooper in plainclothes at the corner resulted in only 1 ticket for failure to wear a seatbelt. The crackdowns were part of a five-day enforcement effort along M-39 that began on Monday.
Here are the results of today's (7/3) Southfield:
130 Stops
03 Speeding
89 Seatbelt
03 Improper Registration
12 No Insurance
04 Driving with Suspended License
57 Verbal Warnings
Great job by the Special Enforcement Section and Metro South troops @zahrahuber25 @WWJ950 pic.twitter.com/RdtUnRIqtk

— MSP Metro Detroit (@mspmetrodet) July 3, 2018
The plainclothes trooper is described by MSP as a "spotter" who looks into cars and then radios to a trooper nearby to issue violators a warning or ticket. The trooper's sign read, "Buckle up save a life."
Asked three times whether the intent was for the trooper to blend in to catch more people without seat belts, MSP spokesman Lt. Michael Shaw said each time that, "Their intention is to catch people not wearing their seat belt." On the third ask, he said "I know what you're trying to get me to say."
To Shaw, the guy with the cardboard sign at the freeway intersection looked not like a panhandler, but a
"cruise director."
We would kindly disagree.
At any rate, to MSP, we might be burying the lead.
"Overall we found people are still not wearing their seat belts," says Shaw. "That's the important part for me. We will be dong [this] again for sure."
The M-39 crackdown follows a special enforcement period last month along M-10 the Lodge in downtown Detroit. Shaw says the crackdowns will continue on a weekly or bi-weekly basis this summer at different locations. He says he's not yet sure which area troopers will target next.
Stay on top of Detroit news and views. Sign up for our weekly issue newsletter delivered each Wednesday.