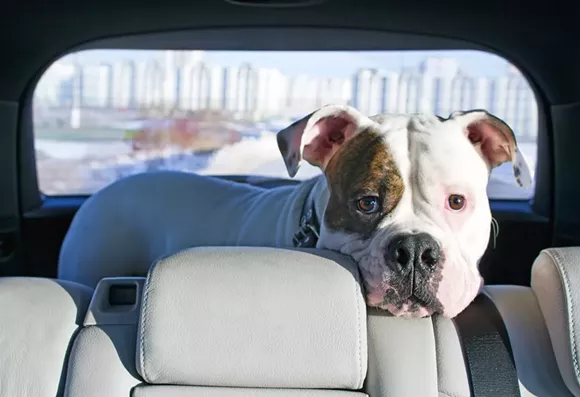 A woman was taken into custody after leaving two puppies in a hot car parked at Southland Mall over the weekend.
According to a
clickondetroit.com
story, Bridgette Manners and her boyfriend spotted the dogs and noticed they were in distress. They immedietly notified mall security, who quickly called the Taylor police.
The pair were still concerned about the puppies well-being and decided to take matters into their own hands. They used a golf club to break out a car window and rescued the animals from the sweltering heat.
Once the woman who owned the vehicle and the puppies returned to her car, she was taken into police custody.
This incident comes On the heels of many similar stories reported around the country that involve both animals and children being left in hot cars, with the windows rolled up, in sweltering heat. In fact, statistics gathered by the National Highway Traffic Safety Administration say that heatstroke is the leading cause of non-crash vehicle-related fatalities for children age 14 and younger. Just last week in Georgia a pair of 15-month-old twins passed away after their father left them in an SUV. Yet, people are still leaving vulnerable creatures in hot vehicles for extended periods of time.
PETA, AKA People for the Ethical Treatment of Animals, and General Motors are doing their part to make sure children and furry friends are no longer subjected to such cruelty and neglect.
GM recently developed a new technology called "Rear Seat Reminder," which works by monitoring rear doors and then emitting a tone and displaying a message in the dash that says, "Rear Seat Reminder/Look in Rear Seat."
It doesn't seem that the technology will alert people once they have exited the vehicle, so we're unsure if this will actually help kids and animals that have been left in the vehicle alone. Although, like as a rule, guys, don't leave your pets or kids locked up in a car when it's 90-fucking-degrees out.
It will, however, remind parents or guardians to check the backseat before exiting the vehicle. You know, in case they forgot their kid is back there.
PETA, in appreciation of GM's effort to keep kids and pets from being baked alive in hot cars, awarded the car company with their Innovator for Animals Award.