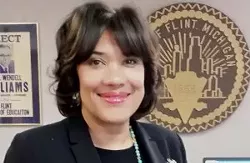 Recently dismissed Flint City Manager Natasha Henderson filed a lawsuit in U.S. District Court against the city of Flint and Mayor Karen Weaver Monday claiming breach of contract, a violation of the First Amendment, and wrongful termination under the Michigan Whistleblowers' Protection Act,
according to the Detroit Free Press
and multiple publications.
Henderson, who was terminated Feb. 12, claims she was wrongfully fired after attempting to look into Weaver's handling of Flint water crisis donations. She says she was was trying to investigate whether funds intended for charity were being steered towards Weaver's campaign fund.
The suit hinges on a Feb. 9 meeting that Henderson says took place between herself and Maxine Murray a city employee who reported directly to Weaver.
According to the lawsuit, Murray came to Henderson "in tears" saying she "feared going to jail." She then explained to Henderson how she had been instructed by the mayor to funnel donations from the Safe Water/Safe Homes charity to a political action committee known as the "Karenabout Flint" fund.
As the suit explains, Murray told Henderson that she was not only told to divert already given funds but mislead donors as to where they should go to donate. The suit says Murray told Henderson that she and another employee were "specifically directed to tell donors and potential donors step-by-step how to donate to the Karenabout Flint fund through its website, rather than instruct them in the steps to donate to the Charity Safe Water/Safe Homes fund through the city of Flint website." This is something the Flint City Council did not approve of, according to the suit. (Interestingly,
CNN
has pointed out that there is no "Karenabout Flint" PAC registered with any of the state's tax agencies).
Henderson claims to have reported Murray's assertion after the meeting to
Flint's chief legal counsel
Anthony Chubb.


"Please advise appropriate actions I can take to protect employees from potential retaliation resulting from them reporting allegations such as this," she wrote in a follow up email to Chubb on the Feb. 10, to which he replied,
"I will take prompt action and advise you later today."
Henderson says she was never contacted again and two days later, after reaching out to Chubb for a third-time, she was called into Weaver's office, where she was told the state couldn't afford her $140,000 a year salary. Henderson's suit claims she followed up by pointing out she was paid by the city of Flint and not the state, but that Weaver had no response and just reiterated her termination.
The suit was filed after City Council, on March 14, voted 9-0 in favor of terminating Henderson. The suit claims many council members had been against her firing but that Weaver defamed her in a closed-door meeting and convinced the council to vote against her. As the suit explains it, the council did not know Henderson was a whistleblower when they took the vote to terminate her.
When Weaver announced Henderson's termination in February, it was viewed as a sign of movement away from state control — Henderson had been appointed by Flint Emergency Manager Darnell Earley in December 2014 — and less about internal politics.
"My focus is moving the City of Flint forward and I feel these personnel changes are necessary to keep us on the right path," Weaver said in a statement at the time.
Henderson's lawsuit, one of many that have sprung up since the spotlight turned to Flint, claims the termination damaged her "economically, injured her reputation, subjected her to public humiliation, damaged her personal relationships ... and caused her significant mental and emotional distress."