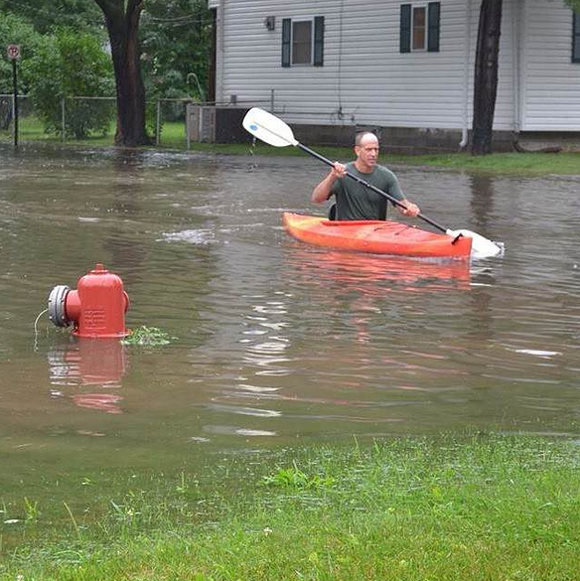 Monday is deadline day at the
MT
office, so it was only after we finally unglued our eyes from our computer screens that we were rudely awakened to the severity of yesterday's storm. Total rainfall according to Detroit Metropolitan Airport was officially 4.57'', but some communities reported
between 4'' and 6"
of rain. The only date on record with a higher amount of rainfall was apparently July 31, 1925, with 4.75'' — but the modern era's paved roadways greatly exacerbate the problem of runoff. Following frigid
polar vortex
from this winter as well as an unseasonably cool July, this has been one wacky year in Detroit weather.
A note to our readers to just avoid driving through deep puddles if possible — and if you must, don't panic and speed through, because you'll just create a bigger splash.
MT
's Michael Jackman learned this the hard way when his engine conked out after driving through a particularly deep pool outside of the
MT
office last night. After coasting to a safe place to park, our man had to raise all of his possessions above his head and wade through "nut-deep" water to catch a ride home by the State Fair. Nearby, a SMART bus
filled with water
. In Detroit, where drivers notoriously disregard traffic "suggestions" already, people decided to make one-way streets into two-ways as they searched for quicker routes.
Unfortunately, more rain is predicted for this afternoon and evening, though thankfully it
should not be anywhere near as bad as yesterday
. In the meantime, check out
12 wacky photos of the watery aftermath
pulled from Instagram today.