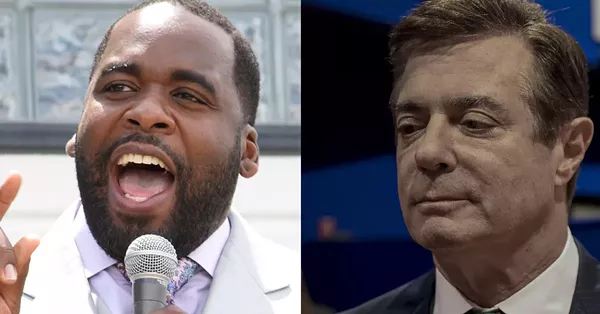 Former Detroit Mayor Kwame Kilpatrick — a black man — is serving 28 years in prison for financial crimes he committed while in office.
Paul Manafort — a politically connected white man and former Trump campaign manager — is serving 7.5 years for financial crimes similar to those of Kilpatrick.
Manafort's sentence stems from two cases in separate federal courts. Guidelines for one case called for 19 to 24 years, while guidelines in another case called for at least 10. Yet judges only hit Manafort with 7.5 years total, and that includes nearly a year of time served.
Back in 2013, Kilpatrick's sentencing guidelines
called for 30 years
and he got 28.
So why did two federal judges allow Manafort to skate while another hurled the book at Kilpatrick? There's no doubt that race played a role.
To be clear, Manafort and Kilpatrick both deserved a long prison sentence, but the cases are emblematic of a fundamental problem with the US justice system — black people on average serve longer prison sentence than white people for similar crimes.
A government
analysis of prison sentences between 2012 and 2016
found black male offenders received sentences that were on average nearly 20 percent longer than similarly situated white men.
Studies
also show
that white, Republican judges hand down much longer sentences to black men than other judges. The judge in the Kilpatrick case was
a white woman appointed by George H.W. Bush
.
Kilpatrick was convicted on two dozen charges including racketeering, extortion, mail fraud, and tax evasion, among other crimes. A jury convicted Manafort of five counts of tax fraud, two counts of bank fraud, one count of failing to declare a foreign bank account, two counts of conspiracy, and obstruction.
Both men were arrogant throughout their hearings, but Kilpatrick apologized at his sentencing. Manafort
couldn't be bothered for that much
at his first sentencing, at which he continued to blame others for his crimes. His tone changed slightly at his second sentencing, however.
Some have defended the Kilpatrick sentence, pointing out his extortion convictions were serious and significantly boosted his guidelines. That may be true, but in 2011, a federal judge handed former Illinois Gov. Rod Blagojevich only
14 years for extortion
and even
attempting to sell the Senate seat
vacated by Barack Obama.
While comparisons to specific cases aren't always fair, Manafort's sentences have been roundly criticized by legal observers, and former federal prosecutor Elie Honig
provided some perspective
: "I prosecuted hundreds of federal cases and never once saw a non-cooperating defendant receive a sentence 15 years below the bottom of the guidelines range."
And he'll likely never see that happen with a black man.
Stay on top of Detroit news and views. Sign up for our weekly issue newsletter delivered each Wednesday.