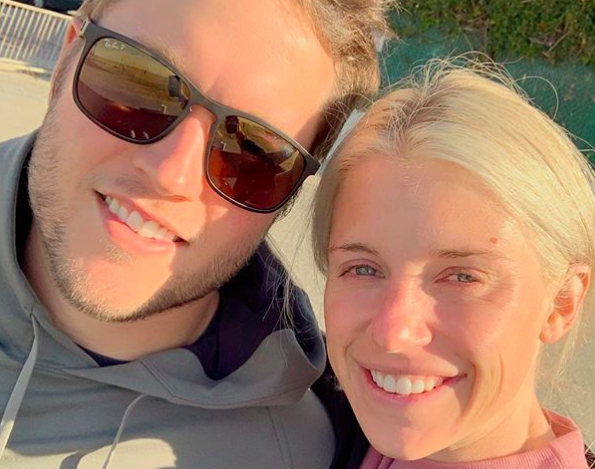 The wife of Detroit Lions quarterback Matthew Stafford took to Instagram Wednesday morning with an emotional post to announce her plans to undergo surgery to remove a recently diagnosed brain tumor.
Kelly Stafford posted a photo of her with her husband on the day she received the diagnosis along with a photo of the X-ray that shows a tumor on some of her cranial nerves.
She wrote that after a few spells of vertigo in January, the Lions team doctor recommended she get an MRI on her brain, which revealed the benign tumor.
"The medical term they used was an acoustic neuroma or vestibular schwannoma," she wrote. "All I heard was brain tumor & that they had to do surgery to take it out."
Stafford said she plans to undergo surgery and has already found a doctor. She wrote in the post about her fears of the potential consequences of the surgery and of being absent from her family's life.
According to the Mayo Clinic's website
, surgery for an acoustic neuroma is performed under general anesthesia. In some cases, when the tumor is too close to important parts of the brain or facial nerve, the whole tumor may not be removed. Potential complications are
various,
and may include facial numbness, balance problems, hearing loss, and stroke.
"I'd be lying if I said I wasn't completely terrified of brain surgery. I am," Stafford wrote. "I am terrified of them opening my head, I'm terrified of losing my hearing, I'm terrified of losing facial function, I'm terrified of far worse things that could happen and I'm terrified that I won't take the time I need to recover because the guilt I might feel of being absent from my kids for too long."
Stafford is asking for support and prayers over the next two weeks.
Matt and Kelly Stafford began dating as undergraduate students at the University of Georgia, where Matt was a quarterback and Kelly was a cheerleader. The classic couple married almost ten years later in April 2015.
They have three daughters, including twin sisters Sawyer and Chandler, who were born in 2017, and Hunter, born in August 2018.
Stay on top of Detroit news and views. Sign up for our weekly issue newsletter delivered each Wednesday.