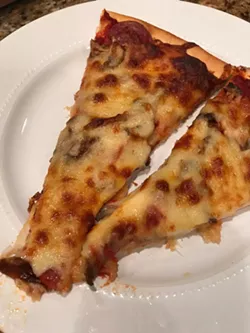 Two things are true of pizza: everyone has a favorite slice and it is inarguably the greatest culinary gift in the history of the world. Also true of most pizzerias is that they deliver and usually within a certain zip code radius. This is not the case for Steve's Pizza in Battle Creek which is take-out only and broke all the damn rules to make dreams come true.

Former Battle Creek residents Julie and Rich Morgan refer to Steve's Pizza as "the gold standard" to which all other pies are held. After 25 years, so far no pizza has come close. For the family, though, their love of Steve's goes deeper than just taste — it's sentimental.

"We were young and money was tight but every payday Rich would pick up Steve's Pizza for dinner," Morgan recalled in a Facebook post.

The Morgans recently planned a trip to Michigan to celebrate Julie's birthday. On the itinerary? Autumnal leave gawking, a visit to the lakeshore, and, of course, a trip to Steve's. But the couple's plans were derailed as Rich's salivary gland cancer had progressed, landing him in ICU and eventually in hospice care in Indianapolis.
In the wake of the canceled trip and critical diagnosis, Julie's father, David Dalke, reached out to Steve's Pizza this past Saturday hoping they could send a card or note to Rich to lift his spirits. Instead, 18-year-old manager Dalton Shaffer inquired about what toppings they wanted and insisted to make an exception for Steve's no-delivery policy.

Shaffer left the shop after close and arrived 3.5 hours and 225 miles later, around 2:30 a.m., to hand deliver two pizzas— one pepperoni, the other, pepperoni, and mushroom.
"Dalton rolled into our driveway, left the car running, and delivered two extra special pizzas to my waiting family," Morgan shared on Facebook. "He told them we were in his prayers and offered to help in any way he could. My dad offered to put him up in a hotel, but he refused and immediately left for the return trip home because he had to work the next day."

"I am beyond overwhelmed and humbled by this act of genuine kindness," she says of the special delivery. "Dalton brought our family so much joy — and the best pizza in the world — at a really difficult time."

When interviewed by the Battle Creek Enquirer, Dalton said he had meant to keep it quiet, not even telling his uncle, the owner of Steve's Pizza, that he was making the trip.

"I just wanted to do that for them," he said. "I just wanted to make them happy."

Stay on top of Detroit news and views. Sign up for our weekly issue newsletter delivered each Wednesday.