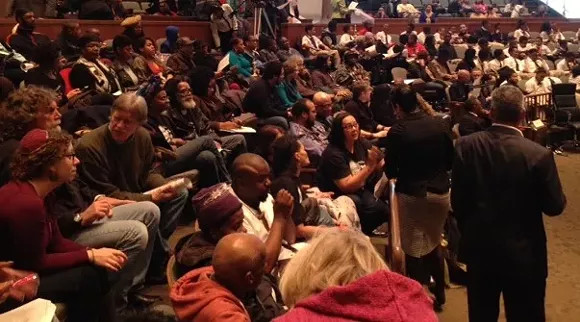 Following yesterday's Detroit City Council meeting, where a bevy of activists
urged the board to throw their support behind a moratorium on tax foreclosures in the city
, a group of housing advocates say they will meet with Wayne County Treasurer Raymond Wojtowicz to deliver thousands of petitions calling for a halt to the process.
"We have new tax laws that haven't had time to work and we know property in Detroit has been over-assessed, resulting in unfair tax bills," said Aaron Handelsman of the Detroit People's Platform, in a statement. "It's really only fair that the new laws and fair values be used before thousands are summarily ejected from their homes."
As
MT
previously reported, an estimated 62,000 properties in the city are set to go into foreclosure, nearly half of which are occupied. About 28,000 of those properties are owned by individuals who reside within them. So far, 7,500 of those owner-occupied homes have been secured by payment plans to address back-taxes.
The state Legislature late last year green-lighted a number of programs to address the issue by allowing homeowners to enter into payment plans to address past due taxes at a reduced interest rate of 6 percent, rather than 18 percent. In addition, taxes can be paid over a five-year period. Payment plans also cap back taxes at no more than 25 percent of a home's market value.
But — with an impending March 31 deadline to take advantage of those programs — that hasn't been enough, housing advocates say.
Following the meeting with Wojtowicz, the housing groups, including the Detroit People's Platform, will hold a press conference outside the Treasurer's office at 3:30 p.m.