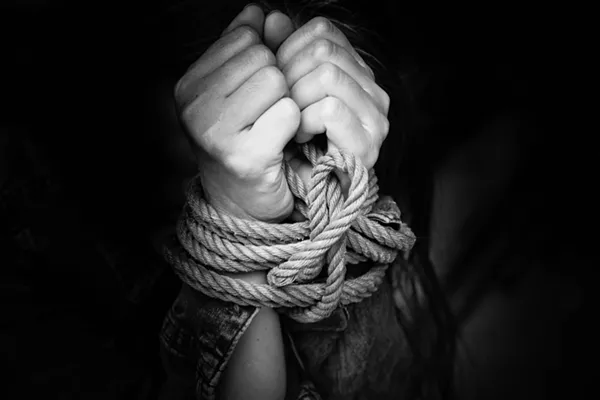 Human sex trafficking is an issue that continues to surface in Detroit media
over
and
over
and
over
again.
And while the issue is omnipresent in the area, January is a month of particular importance. Why? The North American International Auto Show.
Due to an influx of visitors, the NAIAS also brings a spike in sex trafficking as traveling businessmen and tourists seek prostitutes as well as other illicit activities.
"Human trafficking is a significant problem at all times but particularly during large-scale public events, so it's critically important to raise public awareness," Khaalid H. Walls, a spokesman for the Department of Homeland Security, says. "Traffickers are known to law enforcement to temporarily travel to event destinations for the specific purpose of exploiting victims."
Because of the expected spike, Homeland Security Investigations is asking Detroiters to be on the lookout for certain signs of sex trafficking. Those signs include:
• Does the person appear disconnected from family, friends, community organizations, or houses of worship?
• Has a child stopped attending school?
• Has the person had a sudden or dramatic change in behavior?
• Is a juvenile engaged in commercial sex acts?
• Is the person disoriented or confused, or showing signs of mental or physical abuse?
• Does the person have bruises in various stages of healing?
• Is the person fearful, timid, or submissive?
• Does the person show signs of having been denied food, water, sleep, or medical care?
• Is the person often in the company of someone to whom he or she defers? Or someone who seems to be in control of the situation, e.g., where they go or who they talk to?
• Does the person appear to be coached on what to say?
• Is the person living in unsuitable conditions?
• Does the person lack personal possessions and appear not to have a stable living situation?
• Does the person have freedom of movement? Can the person freely leave where they live? Are there unreasonable security measures?
• Does the person appear to have all their belongings in a plastic bag, easy to grab if forced to quickly move locations?
• Is the juvenile using a false ID or lying about his or her age?
• Does the person appear to not be familiar with his or her surroundings, e.g., not know their location?
If you see signs of sex trafficking, you're asked to contact ICE by calling 1-866-DHS-2-ICE or going to www.ice.gov/tips.