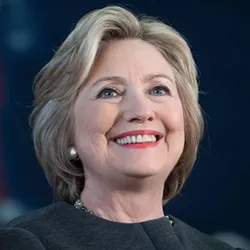 Days after Donald Trump made his big —
surprisingly tame
— speech to the Detroit Economic Club, democratic nominee Hillary Clinton is making her way to the "D" to talk about jobs and the economy too.
On Thursday Clinton's presidential campaign is making its way to Futuramic Tool and Engineering, a Warren auto supply company that over the years has expanded its offerings to also include defense and aerospace industries. According to the
Detroit News
, the company has enjoyed many federal military contracts over the years and has also gone all in on an apprenticeship program with Macomb Community College.
In other words it's a great place for Clinton to talk about jobs, considering the fact that the candidate's plan for the economy "relies heavily on investing in the nation's infrastructure and in hard hit manufacturing communities, like Detroit and Warren," according to the
Detroit News.

Later in the day she will visit Birmingham for what the
News
has described as a "big-ticket, private fund-raiser."
Clinton has clearly collected a number of supporters in Michigan, however, the state remains somewhat fragile. In March, she memorably lost the state's Democratic primary to Sen. Bernie Sanders, in a race that many national polls incorrectly called in her favor.
While protest plans to interrupt Donald Trump's visit to Detroit were noticeably advertised before the big day (so much so that the speech's location was moved at last minute to avoid traffic problems caused by an anticipated "human wall" and on Tuesday), there is little — so far — talk of major protests around Clinton's visit.