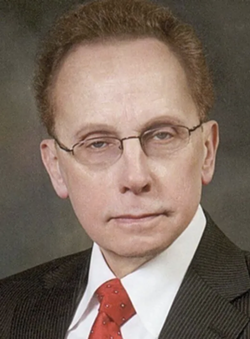 Warren Mayor Jim Fouts is in the news again for allegedly saying some crazy shit in a recently leaked recording.
The latest recording is reportedly from 2011, when Fouts was driving with a high-ranking government official to Turning Point, a nonprofit that provides a shelter and other services for domestic abuse victims and their children.
"I want to actually meet some abused women and say, you know, 'I'm available as a big brother, or a big fucker.'" You know, meet a woman maybe about 35 that's abused and you know, she's open for some abuse from the mayor," the person who sounds an awful lot like the Warren mayor says with a chuckle.
You can listen to the track here:
In previously leaked recordings, someone who sounds a heck of a lot like Fouts talked about
having sex with 16-year-olds in Amsterdam
, said
the N-word
,
compared black people to chimpanzees
, and called Rick Santorum's disabled daughter a
"mongoloid baby."
The mayor has denied it was him uttering those words in all instances.
An audio expert, however, has said the recordings
appeared to be authentic
.
In a Friday interview with
The Macomb Daily
, Fouts once again questioned the authenticity of the recordings. "I'm tired of it," he said. " arren residents are tired of it. It is nothing but phony, manipulated, manufactured tapes and perhaps taken out of context."
The mayor also told the paper he wants to know who is behind the audio clips (the ones he claims are not of him), and has threatened legal action.
"All we know is it's someone who lives in the sewer and slings mud with the tape. Let's (expose) this creepy, crawly person who hides in the darkness," Fouts said.
Fouts is in the final year of his third, four-year term. He has not yet filed for re-election. A
recent poll
found him hemorrhaging support.
Stay on top of Detroit news and views. Sign up for our weekly issue newsletter delivered each Wednesday.