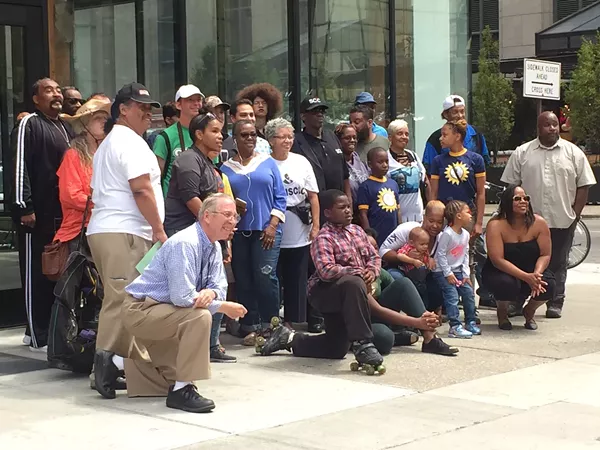 On Sunday, about two weeks after Detroit's largest developer made national headlines for plastering a downtown building with mostly white faces and the words "See Detroit like we do," a few dozen Detroiters posed for a photo in an effort to more accurately represent the people of the city. This time, the faces at 600 Woodward Avenue ranged from young to old, and the overwhelming majority of them were black.
For Nicole Small, the northwest Detroit community activist who organized the photo shoot, the effort to picture an "authentic Detroit" — where more than 80 percent of people are black — was a way for longtime residents to tell the world "we will not be pushed out of our city. We are here to stay." But she and others on hand also hoped the photo op would compel Bedrock owner Dan Gilbert to do more for the local Detroiters whose plight many say he has profited from.
"We need to see some action besides just a half-baked statement from Dan Gilbert," said Small, referencing the public
apology issued by Gilbert
in response to backlash over the ad. "Within Bedrock, Rocket Fiber, Quicken Loans, and Rock Ventures, he needs to have people who are actually in the community and who understand what the issues are in the community coming to the table."
If you're only just tuning in, Gilbert's Bedrock has amassed more than 80 downtown properties in the wake of the economic downturn that routed Detroit, drawn thousands of white millennials to the city, and driven downtown rents to levels unaffordable for even middle-income folks. In the process, he has received tens of millions of dollars in tax breaks with the idea that his various projects are worth the investment because they create jobs, build up the city's tax base, and lead to increased housing values.
But many Detroiters living outside of the city's prosperous downtown say they have not felt the promised impact. And at least one comprehensive study examining the "two Detroits" narrative has found that data backs up their claim:
The study
— published by Michigan State University researchers last year in the journal, Cities — found that "
the gap between the city's core area and its neighborhoods is significant and increasing
." In 95 percent of the city, the researchers said, "decay continues to dominate the post-apocalyptic neighborhood landscape."
Which is why on Sunday, despite the jovial mood of the proud Detroiters who showed up to have their picture taken, there was an underlying sense of anger and determination to hold developers like Gilbert accountable.
"There needs to be more economic justice," said Small. "When you get these public tax dollars, you have to spend a certain amount of money in the community. We don't see it benefiting our people and that's a problem."
Small and others who were on hand for the photo would like to see Gilbert support them on a community benefits agreement. According to a law approved by voters last year, developers have to
provide community benefits
on projects worth at least $75 million and in cases where they receive city-owned land or more than a million dollars in tax breaks. They reach the terms of the agreement by engaging with residents on issues like affordable housing and how many jobs go to locals.
Gilbert will likely have to come to an agreement with citizens as he gets set to build Detroit's tallest building at the former Hudson's site on Woodward. And, according to a
Crain's report
published after the CBA ballot measure was approved, he may also be expected to strike a deal with community members on a $70 million mixed-use development project underway in Brush Park. We have reached out to Bedrock to find out whether such a deal is in the works.
Small says she would like to see an agreement with Gilbert reflect the real needs of Detroiters. So far, she says he hasn't reached out to actual citizens to learn their struggles, which is why she says Gilbert's "giving back" takes the form of free entertainment offerings like basketball hoops and a sandbox downtown.
"You have kids going home and they don't have access to water, their parents have to take them to a local church or food pantry to wash them up before school," says Small. "Do you really think a basketball court is gonna service their needs? But if you had somebody at the table telling you what's really going on in the community, what our true struggle is, then maybe you wouldn't have put up an ad like this."