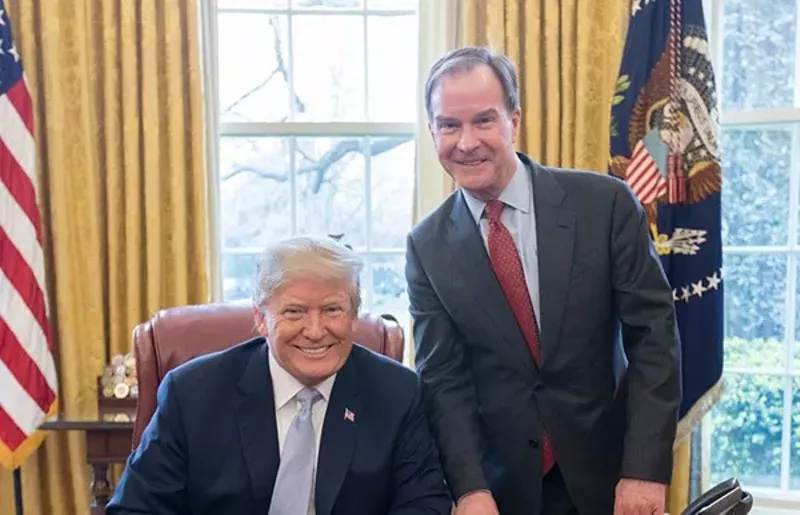 Donald Trump may be far
more unpopular with Michiganders than his predecessors
were at this point in their presidencies, but for the state's leading Republican gubernatorial hopefuls, he's apparently still worth cozying up to.
Republican front runner for governor and Attorney General Bill Schuette on Wednesday released an attack ad accusing opponent Lieutenant Governor Brian Calley of deserting Trump and standing with Hillary Clinton in 2016. In the ad, Schuette also touts his endorsement from Trump, which you may remember because it was announced last year via a Tweet in which the president
spelled Schuette's name wrong
.
The ad comes several days after Calley took a jab at Schuette for his apparent fairweather support for the president. In a statement released the day after Trump
visited Macomb County
, Calley dissed Schuette for once characterizing some of Trump's comments as
"deplorable."
Schuette, for his part, had attempted to bill the event the night before as a
Trump-Schuette
rally, though his name reportedly
was not on any event materials
provided by the Trump campaign.
The candidates' efforts to align themselves with Trump are perplexing because, at last check, Michiganders generally didn't like the president. Trump won Michigan over Hillary Clinton by a margin of fewer than 11,000 votes. His approval rating in the state has declined since he took office and began pushing xenophobic policies and enacting massive tax cuts for the rich. As of March, Trump's approval in Michigan was at a
net negative 13
points, with just over 40 percent of Michiganders saying they approve of his performance and just under 55 percent saying they disapprove.
But Jake Davison with Inside Michigan Politics says it makes sense strategically for the candidates to align with Trump at this stage in the primary race. He says those approval ratings aren't that low and the fact that Trump flipped Michigan red is significant.
"Once [Schuette] has Calley sufficiently put away, to the point where it's only three months left until the primary, you might start to see him drift away from Trump, and then you might see him stop mentioning him entirely, except when forced as he gets close to the general," Davison says.
In a statement issued Wednesday, the Michigan Democratic Party calls what's going on evidence that "the Republican primary for governor is a nasty GOP civil war about who can run farthest to the right and closest to Donald Trump."
And, though we are loath to fan those flames, we should point out that Calley did not ever stand with Hillary Clinton, as the ad released Wednesday by Schuette suggests. According to the Truth Squad over at
Bridge Magazine,
Lieutenant Governor Calley withdrew his support for Trump shortly after the now-president's "grab 'em by the pussy" comments surfaced. At the time, he urged Trump to exit the race because Clinton was a "disastrous alternative."
Stay on top of Detroit news and views. Sign up for our weekly issue newsletter delivered each Wednesday.