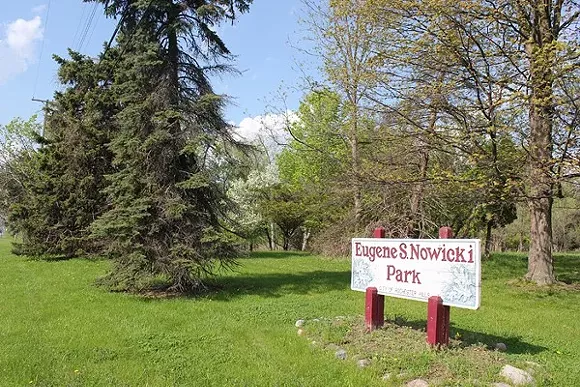 This year, a number of Metro Detroit suburbs awoke to find outstate companies had interest in drilling for gas and oil near residential properties — communities like Shelby Township, Rochester Hills, and more.
In particular, residents in Rochester Hills raised issues with the city's mayor and council, whom drilling opponents say hasn't been forthright about the lease of city-owned land to a Traverse City-based company for possible exploration. The city, for instance, didn't hold a town hall meeting to disclose the possibility of drilling in the community, rather asking the company, Jordan Development, to reach out to affected residents in the nearby vicinity.
Critics also say residents approved a charter amendment that prohibited any lease of city-owned parks and green-space, especially to drill for oil or gas — a point laid out in
a lawsuit filed by a local activist nonprofit
. That case remains pending in Oakland County Circuit Court. The city has maintained that it has properly educated residents on the matter, and has downplayed the charter allegation, saying the lease of mineral rights was fair game under city code. And, city officials say, Jordan wouldn't be drilling directly on-site of the property; the company would use a process known as horizontal drilling, allowing for equipment to be located elsewhere.
There were, however, some elected officials opposed to the lease of city property to Jordan, which Rochester Hills City Council approved in late-2012. Last week, Ravi Yalamanchi, an active councilman at the time of the vote, offered his reasoning as to why he voted no in
a lengthy open letter to the public
.
In the letter, Yalamanchi explains he felt the residents held the right under Rochester Hills city charter to vote on the lease of parks, and that he was concerned about exactly how safe drilling in a residential community may be. (In Shelby Twp., a company involved in an exploration joint-venture with Jordan had plans to drill
as close as 500 feet to some homes
.)
But, Yalamanchi claims that, when the lease first came before the council, discussion on the issue was essentially moot.
"[I]t became clear to me that decision had already been made and the Mayor was ready to sign the lease," Yalamanchi writes. "Council approval was a formality. Most of my colleagues were ready to vote "yes."
Yalamanchi also says he raised concerns about the possible impact oil and gas exploration could have on home values. He writes that he suggested to his colleagues to inform local homeowners associations and "engage them in discussion ..."
"Neither the mayor nor any of my colleagues made any compelling points as to why the city should move forward with the lease," Yalamanchi writes. "it was merely they are here, and this is what they want, and we will give it to them and so they did."