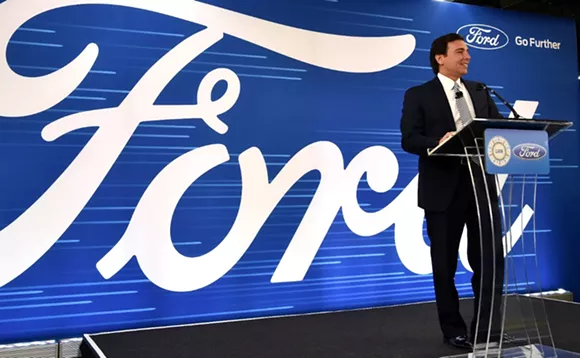 While President Donald Trump has taken credit for recent news of Big Three U.S. investments, those events
were in the making long before he was elected
. But now that Trump is finally in the White House, industry executives are trying to figure out what they can do to stay on the President's good side.
An article posted today to the
Wall Street Journal
explains how industry leaders are dealing with a "new, unpredictable force" in their operations — namely, Trump and his Twitter account, which he has used to scold auto companies for their Mexican production and lack of U.S. investments:
"It's new territory for most of us," Fiat Chrysler Automobiles NV Chief Executive Sergio Marchionne said during a discussion with reporters earlier this month. "None of us have had a tweeting president before. It's a new way of communication, and we're going to have to learn how to respond."
Of course, this isn't accurate. Barack Obama has had a Twitter account since 2007, but we know what Marchionne means: we've never had a President who used social media so loosely and aggressively to bully the private sector.
According to the
WSJ
, auto companies are now taking a look at their U.S. factory workforces, monitoring Trump's twitter account, and are in ongoing discussions with the White House. GM CEO Mary Barra is set to sit on Trump's business advisory panel.
And Ford CEO Mark Fields said this month that he spent the holidays re-reading Trump's autobiography
The Art of the Deal
. He first read it shortly after it was originally published in 1987, but pulled it out again "to better understand the new occupant of the Oval Office," according to the
WSJ
.
The Art of the Deal
is probably not the best dive into the psyche of Trump, though. Fields should know that
The Art of the Deal
ghostwriter Tony Schwartz
has since disowned the book
, calling it a "nonfiction work of fiction."
To write the book, Schwartz spent 18 months interviewing and shadowing Trump in the 1980s. But once Trump secured the Republican nomination last year, Schwartz expressed regret for a deal he wished he didn't make.
"I feel a deep sense of remorse that I contributed to presenting Trump in a way that brought him wider attention and made him more appealing than he is," Schwartz told the
New York Times,
adding that he genuinely believes if Trump got access to the nuclear codes "there is an excellent possibility it will lead to the end of civilization."