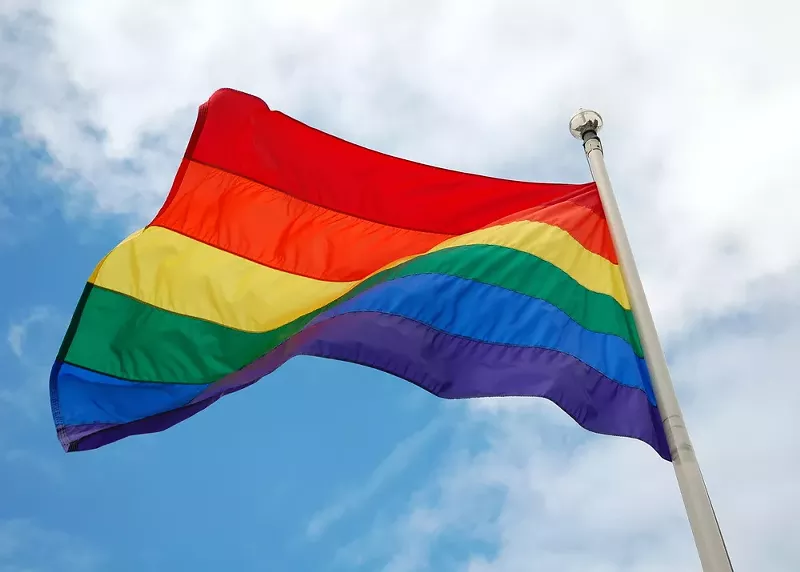 Last week, Ferndale's mayor and city council moved to permanently display the LGBT Pride flag in its city council chambers — an almost unprecedented move among U.S. cities.
Nicknamed "Fabulous Ferndale," the city is known for being an inclusive place with a large LGBT population. According to Wikipedia, the city began attracting LGBT residents in the '80s and '90s. The city was home to the Motor City Pride festival from 2001 to 2011, it's got a 17,000-square-foot Affirmations center, and in 2006 the city passed an anti-discrimination ordinance that protects "LGBT people from discrimination in public accommodations, housing, and business."
In a news released posted on the city of Ferndale's website, Mayor Dave Coulter says, "Our motto in Ferndale is 'Good Neighbors,' and we interpret that to include the diversity of our residents and guests and the benefits of inclusive decision-making. My fellow Council members and I strive to act in ways reflective of Ferndale's shared values."
Coulter also gave the city's LGBT population credit for its role in redeveloping the city.
"A critical part of Ferndale's revitalization, and its continued success going forward, is owed to these pioneers and the lessons they taught in embracing of the equality of all races, ages, identities, nationalities and orientations in our city," Coulter said.