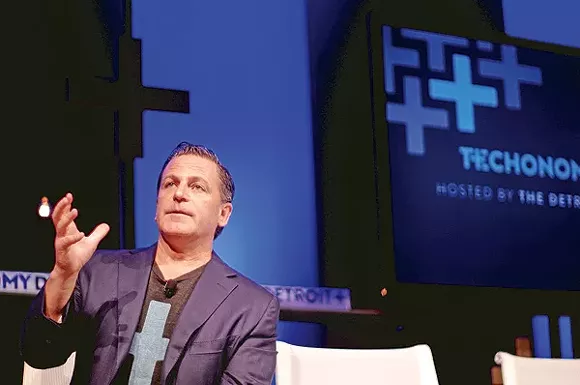 The U.S. Justice Department has filed a lawsuit against Quicken Loans, alleging the mortgage lender violated underwriting rules, which materialized in "millions of dollars" of losses to the U.S. Housing and Urban Development (HUD) agency.
"Those who do business with the United States must act in good faith, including lenders that participate in the FHA mortgage insurance program," said Benjamin C. Mizer, principal deputy assistant attorney general of the Justice Department's Civil Division, in a statement Thursday.
"To protect the housing market and the [Federal Housing Administration] fund, we will continue to hold responsible lenders that knowingly violate the rules."
Since September 2007, HUD has already paid more than $500 million in claims on nearly 3,900 mortgage loans "endorsed by Quicken," according to the 69-page complaint filed Thursday in the U.S. District Court for the District of Columbia. It's unclear in the lawsuit how much the government has attributed that amount to alleged improper underwriting of loans.
In addition, the complaint stated, more claims are expected on FHA-backed loans endorsed by Quicken. As of Monday, about 8,330 additional mortgage loans underwritten by Quicken since September 2007 — totaling an unpaid balance of $1.1 billion — have become at least 60 days delinquent, according to the complaint, and could result in additional HUD claims.
Lenders who participate in the Federal Housing Administration's insurance program must adhere to certain underwriting guidelines for loans. Quicken Loans began participating again as a "direct endorsement lender" — meaning HUD nor the FHA would review loans before insuring them — in September 2007, following a two-year respite from selling FHA-backed loans. If a FHA-backed loan later defaults, the holder can then submit an insurance claim to HUD, the parent agency to the FHA, for the amounted losses.
Dan Gilbert, founder and chairman of Quicken, didn't immediately respond to an email for comment. The company issued a statement in response to the suit Thursday afternoon:
"By its own objective public reporting, FHA ranks Quicken Loans the highest quality (lowest default rate) lender of any large FHA originator in the United States. The FHA mortgages Quicken Loans originated are projected to generate billions in profits (net of claims) for the government from the insurance premiums on the $40 billion in FHA volume the company has closed since 2007. Today's DOJ filing is simply the continuation of the abusive actions and a make-good on the DOJ's threats since their witch-hunt began three years ago, as detailed in the lawsuit Quicken Loans filed against the DOJ last week."
The statement continued, "The complaint filed today is riddled with inaccurate and twisted conclusions from fragments of a handful of emails cherry-picked from 85,000 documents that the DOJ subpoenaed. Worse than that, the DOJ appears to be basing their entire case on a handful of out-of-context email conversations skimmed from the communication between Quicken Loans employees. These conversations relate to a minuscule number of loans out of the nearly 250,000 FHA mortgages the company has closed over the past seven years.
"The real victims in this unjust claim are the millions of middle class American families who rely on FHA financing to reach their goal of affordable home ownership. For now, Quicken Loans plans to continue offering FHA mortgages to our clients, but like nearly every lender in the country, we will be evaluating the prudence of our continued participation in the FHA program ... The irrational and baseless claims by this powerful federal agency will be exposed in Federal court. We are confident that after examining the facts, the judicial branch will clearly see the outrageous actions of the DOJ and exercise its authority to end this agency's misuse of power."
What the government alleges is that Quicken used the FHA as a backstop to insure bogus loans.
According to the complaint, between September 2007 and December 2011 Quicken knowingly submitted, or caused the submission, of claims for hundreds of improperly underwritten loans backed by the FHA. Quicken knowingly originated loans that could not meet FHA underwriting requirements through two ways, according to the lawsuit: the company's "management exception process" and its "value appeal" process.
For example, in the "value appeal" process, the government alleged that, if an appraisal value for a home came in too low, Quicken would routinely ask for a specific new and higher value from an appraiser, "often with no justification for the increase." That's prohibited under FHA guidelines.
Through the "management exception" process, Quicken would permit employees to request management approval to break an FHA rule to approve the insured loan, the complaint stated.
Quicken also endorsed FHA-backed loans despite clear examples that showed a borrower would not be able to make a mortgage payment, the government said.
In one instance, the complaint said, a borrower's bank account statement showed overdrafts over the course of numerous months. The borrower requested a refund of Quicken's $400 mortgage application fee so she could feed her family. The government says Quicken approved the loan anyway, and the borrower made only five payments before she defaulted. As a result, the complaint said, HUD paid a claim for nearly $94,000.
Senior management of Quicken were well-aware that its exception process allowed FHA-backed loans to be improperly approved through a "freewheeling approach" to the company's underwriting process, the complaint stated.
According to the complaint, Clint Bonkowski, Quicken's divisional vice president for underwriting, said in sworn testimony that a decision by an underwriter to seek a documented management exception, or to provide the exception on his or her own, "depends on what the underwriter's comfortable with."
Bonkowski conducted a review of exceptions Quicken granted to FHA-backed loans that defaulted in 2010 soon after they were originated, according to the complaint, and found that 40 percent should not have been granted.
In an email to a group of Quicken executives, Bonkowski said, "We make some really dumb decisions when it comes to client service exceptions. Example, purchase loan we pulled new credit and the client stopped paying on almost everything and the scores fell by 100 points, we [still] closed it."
In another instance cited in the complaint, Quicken executives were made aware that an FHA cash-out refinance had been approved for a borrower, while an internal document later showed an employee "misrepresented [the borrower's] intent to take cash out and sell subject [property] to a purchase a new primary residence."
The complaint — which comes days after Quicken
preemptively sued the feds
for what it claimed was a strong-armed attempt to garner a settlement out of the company for alleged improper lending practices — continued, "Rather than stop the loan from being insured by FHA, Quicken's Operation Director, Mike Lyon, wrote: 'the FHA loan closed on 4/29. Over a month ago. We can't unwind that. My suggestion is to get it insured the loan for FHA insurance.'"
The borrower eventually defaulted; Quicken submitted a claim for $162,740, "even though Quicken knew the loan was ineligible," the complaint alleged. FHA reimbursed the amount.
Quicken also regularly manipulated income levels for borrowers, according to the complaint.
Lyon, the company's operations director, wrote in one email that an FHA-insured loan was underwritten with "bastard income." According to the complaint, Lyon defined bastard income as "trying to put some kind of income together that is plausible to the investor even though we know its creation comes from something evil and horrible."
In another email from Lyon, he said of a particular FHA-backed loan from Quicken, "I was able to fudge her job income and get that up a bit." Quicken approved the loan and endorsed it for FHA insurance, the complaint stated.
Top management at Quicken was also cognizant of issues related to documentation of borrowers' income, the complaint said, "a problem that consistently plagued the company."
According to the complaint, in 2008, Quicken required a group of underwriters to take a test that evaluated their proficiency in calculating and documenting a borrower's income. Only 44 percent passed the test, the complaint said. In response, Lyon said in an email those underwriters "need to go back to school."
The company also made a point to incentivize underwriters to approve loans expeditiously with prohibited commissions under HUD guidelines, the complaint alleged.
On one underwriter, the complaint said, Jeanine Taylor, Quicken's operations director of the FHA team, wrote in an email that his "quality scares me." Still, the complaint stated, Taylor pressured him to increase his loan production, regardless of the poor quality.
Quicken would also routinely approve improper FHA-backed loans because the FHA would have to cover the losses, according to the complaint.
In yet another email to senior executives, Lyon said Quicken approved a loan consisting of "lousy" parts that "when added up as a whole ... we would be hard pressed to lend this guy a dime out of our pocket."
Quicken CEO Bill Emerson responded, "Where is the upside on this one?"
Lyon answered: "[T]he only upside here is we have FHA insurance."
The three-year investigation into Quicken was headed up by the HUD Office of Inspector General, U.S. Attorney's Office in Colorado, and the Civil Division's Commercial Litigation Branch. The feds subpoenaed over 85,000 documents, including 55,000 emails as part of the probe.
The five-count lawsuit charges Quicken with violations of the False Claims Act, breach of fiduciary duty, and negligence. The United States is seeking $5,500 to $11,000 per violation of the False Claims Act, as well as additional unspecified compensatory damages.
Quicken is the nation's largest originator of FHA-backed loans. CEO Emerson issued a statement last week on the government's investigation when Quicken filed its lawsuit against the U.S. last week.
"After three years of struggling to understand the DOJ's position and methodology that would warrant the country's largest and highest quality FHA lender to make untrue admissions and pay an inexplicable penalty or face public legal action, it is time to ask the court to intervene," Emerson said.
"No threat, including high-profile senseless lawsuits from powerful federal officials, will deter our company and its leadership from doing the right thing. We will stand in defense of our impeccable reputation established by thousands of hard-working ethical team members over our 30-year history."
In a rather ironic twist on that Quicken
"ISM"
to "do the right thing," HUD Inspector General David A. Montoya said in a statement Thursday: "The complaint alleges that Quicken approved loans that should not have been approved and submitted them for FHA insurance. The alleged cost to the FHA insurance fund was millions of dollars and hopefully this serves as reinforcement to Quicken that doing the wrong thing really never is worth it."