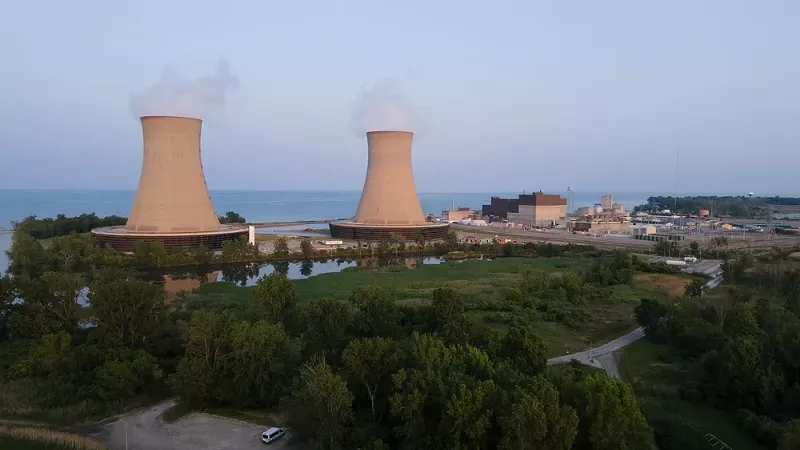 The Fermi 2 Nuclear Plant has been closed for repairs for almost three weeks. Local residents and advocacy groups in Monroe County are voicing concerns that it's the latest indication of a potential threat to public safety in Michigan and neighboring states.
There is no clear indication of how long the shutdown will last, and area resident Jesse Collins, a leader of the group Citizens' Resistance at Fermi Two, said DTE Energy isn't being "up front" about what is really going on at the plant. Writing the group's weekly newsletter, Collins reported having to do a lot of digging to find much information about Fermi 2.
"So, one document says they're sending a correction because there was a typo," Collins said, "then later in the fine print it says the fans 'would not cause significant reduction in safety, because the system is redundant.' See, that has nothing to do with a typo."
The U.S. Nuclear Regulatory Commission's daily Power Reactor Status Report indicates that Fermi 2 is producing no power. It was initially brought down from 20% production on Aug. 20 to allow investigation and ensure levels of oxygen and hydrogen were safe, after a pressure boundary leak was discovered the week before.
NRC documents say DTE "used its best efforts to make a timely application and could not have reasonably avoided the situation." They add that "no significant increase in individual or cumulative occupational radiation exposure is expected." Apart from the leak, DTE had also put in a request to repair the cooling towers.
Social scientist Michael Keegan, research director for the group Don't Waste Michigan, said they had to amend the request to fix the cooling towers because it will be too costly to remain closed. He said it will have to happen at a later time.
"They are operating the plant in a way that it was not configured to operate," Keegan said. "They had to get exemptions to do so, and my concern is that the public's safety is being compromised at the price of production."
Fermi 2 saw a previous shutdown in 2018, when a valve issue was discovered. In 1979, there was a partial meltdown at Fermi 1. Another — in 1966 — was considered the worst nuclear accident at a U.S.-based plant. Fermi 1 was decommissioned in 1975.
Subscribe to Metro Times newsletters.

Follow us: Google News | NewsBreak | Reddit | Instagram | Facebook | Twitter