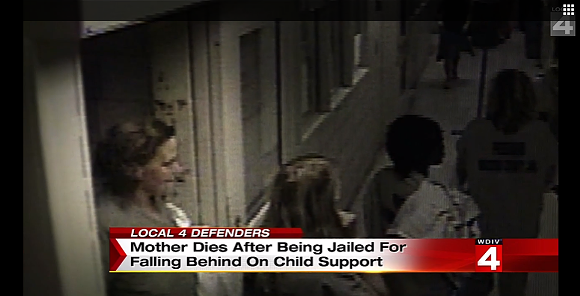 Macomb County Jail seems to be having a hard time keeping its inmates alive.
Jennifer Meyers, 37, fell behind on her child support payments and was sentenced to 30 days in jail. She never even made it halfway through her sentence; she died 12 days later from acute sepsis — an infection that grew into a deadly illness.
Clickondetroit's
Local 4 Defenders
have been conducting an ongoing investigation of Meyers' case, which started in 2013 when Meyers died in prison. They recently obtained video and witness statements from other inmates, who reportedly told clickondetroit that Meyers was in pain for the duration of her stay, that she emitted a foul smell (a sign of infection), and that while she repeatedly requested medical assistance, neither the jail guards nor privately contracted medical staff saw fit to take Meyers to the hospital, or even give her medical attention.
"Nobody ever came in to check on her and see if she was OK," a witness told clickondetroit. "She wasn't eating. She wasn't drinking."
A lawsuit is being filed in federal court against the jail.


"All you need to do is send her to the hospital. What's so complicated about that?" attorney Harold Perakis said in an interview with Detroit News.
"We have numerous statements from inmates that suggest that during her entire 10 days in jail she was suffering these circumstances."
This is not the first time Macomb County Jail has been under scrutiny in recent history. David Stojcevski's death in 2014, during his 30-day sentence over failing to appear in court over a traffic ticket for careless driving, was
under FBI investigation up until this year.
It's true that inmates die in jail all the time, succumbing to age or long-term illness. But few people expect to go to jail for 30 days and then leave in a body bag.