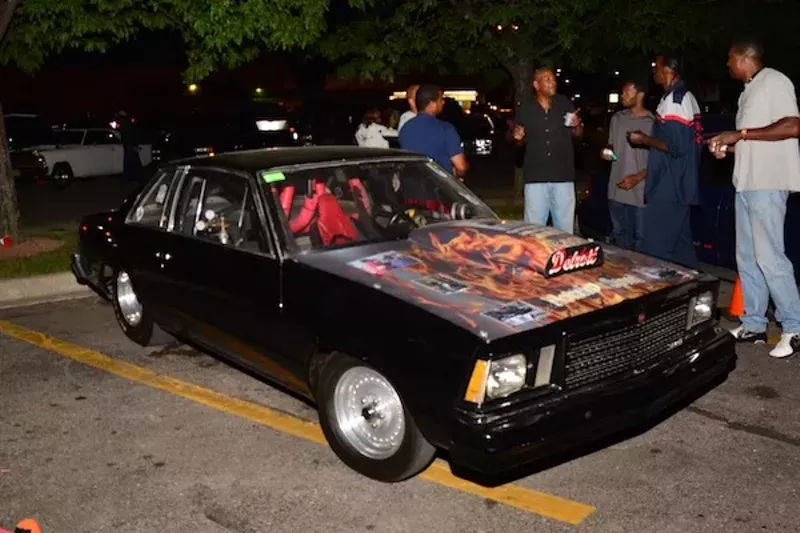 The Motor City Showdown
, Detroit's first-ever legal drag racing event, takes place Sept. 23 at City Airport. It's being spearheaded by professional race car driver and native Detroiter Brian Olatunji, and
has earned the cooperation of the city
. It sounds like a fun event, with food, music, a car show, and a juried group of drivers piloting their overpowered cars down the airport's runway.
But one racing enthusiast says the one-off show doesn't go far enough. That person is Paul Humphries, who has spent years urging Detroit to offer the city's illegal street racers a legal alternative.
Few people are embedded in Detroit's racing scene like Humphries. Now based in Arizona, he still returns once a year as an organizer of the
White Castle Reunion
, a celebration of street racing culture in the 1970s and 1980s. Back then, street racers could travel down to the Detroit Dragway at Sibley and Dix roads and make their passes in a professional environment. But with the closing of that track in the 1990s, the action has increasingly shifted to the streets, something that has caused enough trouble to attract the attention of the resource-strapped Detroit Police Department.
Humphries has spent the better part of a decade trying to address the problem with a carrot instead of a stick. He tried to organize outings to Milan Dragway where street racers could learn racing standards. And he's also been urging the city of Detroit to set aside some land for the sport. Initially, he had hoped to see a dragstrip at the old State Fairgrounds, but in recent years he and others had highlighted the possibility of drag racing at City Airport. He says he put forward the idea as recently as three weeks ago.
Naturally, when he heard about the Motor City Showdown, he felt his campaign had finally found traction with Detroit Mayor Mike Duggan and the city administration.
"I thought the fight was over," he tells us, "And then I find out that these guys are just coming in and just doing a one-time thing for this year … just bringing in 30 pro-cars with people that they know. So I'm like, you know, they're not doing anything for the street racers.
"This was supposed to have been for the street racers, to get the guys off the streets. So I don't know if the mayor understands what's going on. I know he wants this event to happen, but I don't know if he understand that these people are coming in for a quick hit."
For his part, Showdown organizer Brian Olatunji, a professional race car driver and native Detroiter, says his event is limited in scope, mostly to "demonstrate what drag racing is on a big stage."
"We're focused on hosting one event this season, with the window that we have, and this being the first" Olatunji says. "But we first need to demonstrate that we can host a safe event in the city of Detroit, and let these folks that are street racing see this."
Olatunji also concedes that one of the main challenges of Detroit's street racers is the lack of a nearby track they can use, but he hopes the Showdown could signal changes in the way the city views proposals like that of Humphries. He even believes Detroit's top cop, Police Chief James E. Craig.
"Although Milan has been there for half a century, there are quite a few folks in the city who have never seen organized racing," Olatunji says. "The only thing they know about racing is French Road. So I think the first order of business is to see where the appetite is of the city, and to come out and support this event and I think this will absolutely get the attention of the powers that be. They're fully aware that we have an illegal street racing problem in the city."
If that's the case, the Showdown might just put Humphries in a better position to argue for a safe, welcoming, and legal space for the city's racing enthusiasts. He has asked for 15 minutes with Mayor Duggan to present his idea for events at the airport that would draw street racers off city roads and have them take their grudge-style races to the airstrip on the east side. But he hasn't heard back.
"It doesn't matter who takes the idea," Humphries says, "but do it for Detroit. Do it for the people who are out there racing. Don't just do it to get a payday."
The Motor City Showdown will feature drag racing, cars on display, music, and food trucks. It takes place 3-9 p.m. Sept. 23, at city airport; tickets are $20 and available at motorcityshowdown.com.

Paul Humphries continues to look for ways to give street racers a chance to engage in legal motor sports. He can be reached at

[email protected]

.