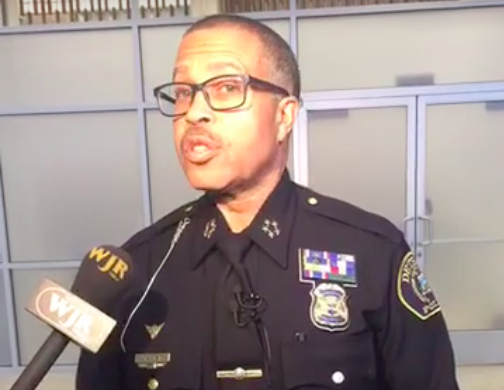 Detroit Police Chief James Craig says he plans to temporarily put "on hold" a committee that found the department suffers from a growing race problem following
calls from union officials to disband the group
. But, the chief says the department will continue to "move forward" with what the Committee on Race and Equality "represents." He did not offer much further detail, simply saying CORE will be "restructured."
The
report
by the Committee on Race and Equality, which was released last week following media and activist pressure,
found "top-down entrenched discriminatory practices" within the department
. Some elite units, the report said, are overwhelmingly staffed by whites, and African-Americans who've complained of bias in the process of appointments have faced retaliation by white command officers.
The officers CORE interviewed to compile the report were unnamed, and Chief Craig last week described the committee's findings as based on "rumor and innuendo."
Tuesday's announcement that Craig would suspend and eventually re-work the committee
he instated last year
came after a Martin Luther King Day news conference in which the Detroit Police Officers Association decried the CORE report. DPOA President Mark Diaz called allegations of racist practices in the department "reckless" and "obviously and deliberately an attempt to deteriorate the great relationship our police officers and our police department have worked to harbor with our citizens."
The black, now-retired officer who co-chaired the committee that for eight months interviewed officers to learn about the race problems facing the department says that by attacking CORE's findings, the union shows it's only interested in maintaining the status quo.
"My take on it is is you're happy with the mostly white elite units and you want it to stay that way," said former officer John Bennett.
On Tuesday, the Detroit police chief again sought to downplay such findings. The department's Technical Response Unit, for instance, is 85 percent staffed by African-Americans, Craig said. Two-thirds of the department's officers are black.
Despite the fact that he disagrees with some of the race committee's conclusions, Craig reiterated that he has implemented some of its 19 recommendations. He's previously stated that, among other things, the department has taken steps to promote racial and gender diversity at the command level and set up a program to give officers a chance to work better assignments.
But former CORE co-chair Bennett says the chief hasn't gone far enough. The group, among other things, has recommended the department offer cultural diversity training, easier access to training opportunities and more events to unify the force. It has also asked that the committee become permanent.
Read more about the issue
here
.