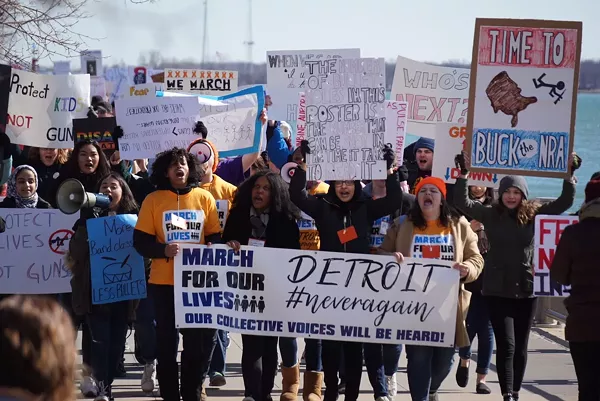 Sunny skies and protest signs filled the air in downtown Detroit as thousands of protesters took to the streets in a march to end gun violence as part of the
metro Detroit March for Our Lives demonstration.


Lead by local students, the protest brought out people from all walks of life to express their desire for changes in gun control laws in an effort to decrease gun violence in the wake of last month's shooting at Marjory Douglas Stoneman High School in Parkland, Fla.
As protesters marched through Hart Plaza and downtown Detroit, they waived signs with anti-gun violence themes. Their chants of "Hey, Hey NRA, how many kids have you killed today?" and "Enough is enough!" filled the streets.
After the march concluded, protesters gathered around a stage in front of the RenCen where Detroit area students, local politicians, and community organizers took to the podium and spoke.
Pamela Beltran is a student at Detroit's Cass Technical High School. She helped to organize her high school's National Walkout Day protest on March 14 as well as the metro Detroit March for Our Lives march.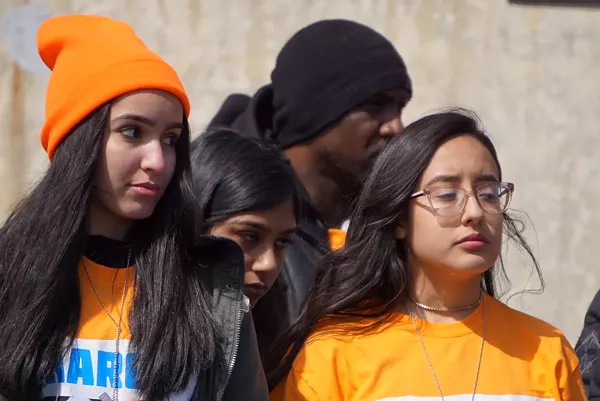 Beltran was also one of the march's many speakers. Her speech offered a critique of the "thoughts and prayers" approach that many politicians take in the wake of school shootings.
"The inequity of gun violence effects people of color," Beltran told Metro Times. "I live in Detroit and gun violence is something I hear about everyday and it shouldn't be that way."
The day before the protest, Beltran was told by adult allies who helped organize the demonstation that 18,000 people were expected to attend.
"I saw a lot of youth and it empowered me to continue my fight," Beltran said.
State Rep. Stephanie Chang was one of the speakers who spoke to an energetic crowd of thousands.
"We are the leaders we've been waiting for," Chang said. "I am proud to support gun control legislation."
Sen. Debbie Stabenow was also in attendance, sitting side stage and nodding in agreement as others spoke about how gun violence had impacted their lives.
"The biggest tragedy is that we as adults have not done enough to stop [gun violence]," Stabenow said. "Student voices are going to make change possible."
Stabenow also commented on her wishes to ban the sale of military assault weapons and to arm teachers with books and resources rather than firearms.

See photos of the protest here.
Anthony Spak is an editorial intern with the Metro Times and a recent graduate of Oakland University's journalism program.