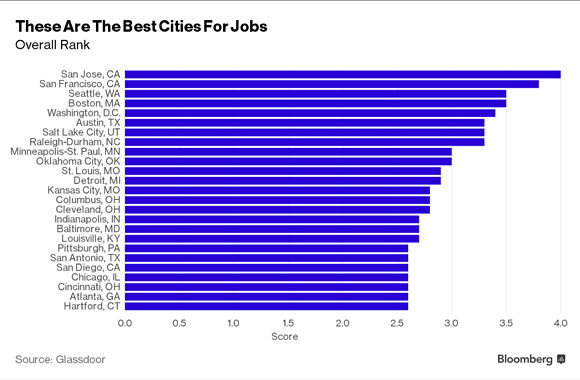 Detroit has, for the first time EVER, made the list of the
25 Best Cities for Jobs for 2016
published by
Bloomberg
, which came as a bit of a surprise, so we dug a little deeper.
The list is sourced from data from Glassdoor (you know, that website where you can search salaries and find out what employees
really
think of their employers), which weighed four factors: hiring opportunity, cost of living, job satisfaction, and work-life balance. The report also includes in-demand jobs, median salary, and home value, and this is where things started to get a little fuzzy.
The report has the median base salary for Detroit at $61,500. *Say whhhhat?* This number sounded just a bit steep to us, so we looked at how it was calculated, and discovered it is based on the salaries, bonuses, wages, and hourly pay, submitted anonymously to Glassdoor. We won't get into Detroit's digital divide, but obviously basing the number on salaries of people who submit their salaries to Glassdoor seems a bit short-sighted.
And here's another number.
According to the United States Census Bureau
, the median household income for Detroit in 2014 was $26,095. So wait, the median base salary is over $60,000 and yet the median household income is less than half of that? We're not math whizzes here, but something doesn't seem right.
No one would argue that Detroit being included on a list of the best cities is bad, however, this list gives a false image of Detroit. This is not meant to beat up on Detroit, rather it's about being realistic on where Detroit is at in an economic sense.
Eric Thomas'
"Why I hate Detroit"
gives some good insight to the current state of Detroit.
"Detroit's has very low opportunity for people that live here. Not none, just very minimal. There are tons of people with trust funds, cashed out retirement packages, and successful businesses in the suburbs that are moving in due to cost of doing business and asking me, "Whatever do you mean? Detroit is a millionaire's playground!?" True. If you can afford to take advantage of the economically depressed environment, then you're in the luck."
So if we take the listing at face value, Detroit is looking real good. Good median salary, good housing prices, why not move here? Before we start celebrating, though,
like the fine folks over at Channel 7
, take a closer look at the facts. Detroit is certainly improving, with a
recovering real estate sector
. There is still a ton of work to do before Detroit returns to its former glory.