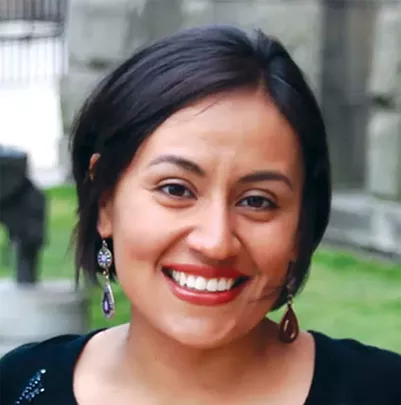 Last night, we dropped by
a longwinded public hearing
on a proposed rezoning of the future site where a $450 million Detroit Red Wings arena will be located. The hearing, held by the Detroit City Planning Commission, featured a number of passionate comments from members of the public, both positive and negative of the massive project.
Some of the most interesting remarks came from Raquel Castañeda-López, Detroit City Councilwoman who represents District 6, where the majority of the new arena and adjacent entertainment district will be located.
Speaking last during a public comment period, Castañeda-López highlighted an interesting point that, to our knowledge, hasn't been considered publicly in the negotiations over the new arena: Cass Avenue is slated to become a main biking corridor in the city.
That doesn't exactly mesh well with the sight of motorists pouring into a new parking structure expected to be built along Cass between Henry and Sproat to service the new arena.
You might recall, late last year, the Michigan Department of Transportation (MDOT) awarded a $1 million grant toward,
as Curbed Detroit put it
, "enhancing Cass Avenue as a bike-friendly alternative to Woodward Avenue, which will eventually be home to the side-running M1 streetcar line." The decision to construct a (mostly) curbside-running streetcar along Woodward has drawn criticism from cycling proponents ever since the concept was announced.
MDOT took aim at the criticisms in its environmental assessment
completed for the M-1 Rail project
, writing that "most of the streetcar/share-use lane would be a smooth surface, a groove would be necessary in the pavement adjacent to each rail to accommodate the wheel flanges on streetcar vehicles. This could adversely affect bicyclists, as there is a potential for a bicycle wheel to get caught in the groove."
So, MDOT goes on to propose a number of alternative parallel routes to Woodward for cyclists, "including Cass Avenue ... [which] may be a better alternative route than John R Street for bicyclists since it has a direct connection to Downtown."
Yeah, a direct connection that now will come with a stampede of vehicles likely inhibiting a smooth route. The Red Wings owner expects to host 200 events per year, between hockey games, concerts, and more. That's 200 days out of the year where a steady stream of traffic will flow off of I-75 and onto Cass, where the arena's parking structure will be located. That's not the friendliest environment for a cyclist heading from the Wayne State area to downtown, or vice versa.
And speaking of that parking structure, Castañeda-López offered an excellent alternative: Why not put the thing underground? As she put it, underground parking would have opened up an even larger amount of space, and would've promoted walkability.
If only Castañeda-López had a seat at the table when negotiations for the project began; perhaps then these kind of common-sense suggestions would've been taken into consideration.