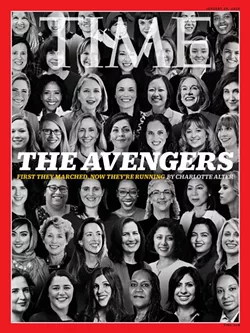 Earlier this month,
Time
magazine featured several dozen women candidates on its cover, all of whom the magazine says are running for office for the first time and were inspired to do so by last year's Women's March.
It was hard to tell at the time, but a Detroit housing activist and
Metro Times
opinion contributor who recently announced she's getting into politics was among them.
Michele Oberholtzer
, who is running to represent Michigan's 4th House District, is hiding underneath the I in "Time." Right below the "S,"
Time
tells us, is
Farmington city council candidate Maria Taylor
.
The cover story, "The Avengers," describes an "an unprecedented surge of first-time female candidates, overwhelmingly Democratic, running for offices big and small, from the U.S. Senate and state legislatures to local school boards."
Many of the women running say it's because they underwent a "metamorphosis" after President Trump was elected,
Time
reports. The magazine describes them as "spurred by the bitter defeat of the first major female presidential candidate at the hands of a self-described p—-y grabber."
Oberholtzer's reasoning, however, may have less to do with Trump's misogyny and more to do with her mission to fight inequality. For the better part of a decade, Oberholtzer has been on the front lines of the fight to keep Detroiters in their homes amid an
ongoing tax foreclosure crisis
that has displaced people in
tens of thousands of households
. In 2014, she launched a nonprofit called
the Tricycle Collective
to help families with kids keep the roofs over their heads (the nonprofit is named for the visual indicator Oberholtzer used to determine that children may present in the home), and in 2016 she joined the United Community Housing Coalition as the director of its tax foreclosure prevention project.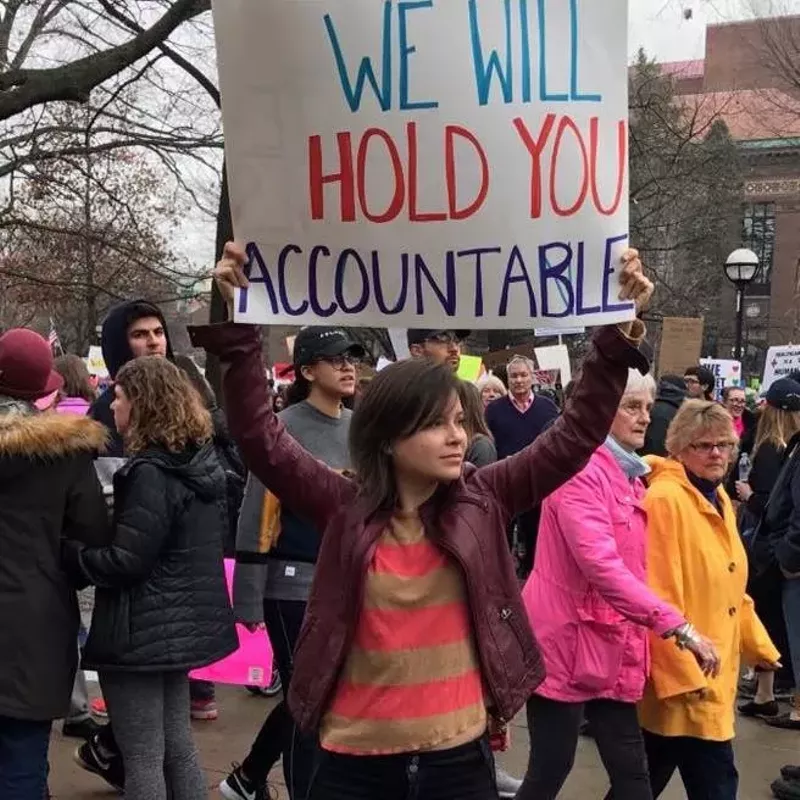 But in some ways, Trump may have been a catalyst for her candidacy. Before he was elected, Oberholtzer says she had considered pursuing law school to become a more effective advocate.
"I remember last year thinking to myself, I don't want to be in the classroom while Donald Trump is president, I want to be out there and I want to be deployable," she tells
Metro Times
.
That desire to be "out there" turned into "in office" during a sort of a-ha moment during this year's Wayne County Tax Auction, when she realized there was only so much she could do to help people through her role at a housing nonprofit.
"We were trying to help our clients save their homes ... and there was a moment when we were losing house after house and, on other side of the door, we had a line of people waiting to see our staff that does housing placement," she says. "Of course, I'm already aware of that cycle, but it was so stark in that moment and it really fueled me.
"I love my job, I don't want to leave, but I want to address things at the root and I can't really continue to work in the system like this because we're losing. By these rules, we're losing."
Michele4Rep from Michele Oberholtzer on Vimeo.
The rules to which she's referring include a state law that requires homes with three years of back taxes to be foreclosed by county governments and eventually sold at auction. A lawyer behind a recently filed suit that argues the law is unconstitutional tells
Michigan Radio
that a handful of other states have similar laws that allow county governments to foreclose and seize, but "Michigan has an unusually short timeline" for property owners to catch up on their back taxes. The case hinges on the argument that Michigan counties that seize homes and sell them for more than the taxes that were owed violate the takings clause of the Fifth Amendment. Lawyer Christina Martin tells Michigan Radio "the vast majority of states give the surplus proceeds from tax sales to the former owners."
There are many more questionable elements of Michigan's tax foreclosure scheme, and you can read Oberholtzer's take on them in her Sept. 13 visiting view,
"Detroit is not for sale: Myth-busting the Detroit tax foreclosure crisis."

Oberholtzer
is running
in a crowded race to replace term-limited Democrat Rose Mary Robinson, but she says the
Time
piece has helped her feel better about her chances of getting elected.
"It is a lonely pursuit to try to be a candidate and you don't know how you're doing 'til after the election," she says. "It's encouraging to know that I'm part of a group and it's given me more confidence."
There will be a fundraiser for Oberholtzer at Anchor Bar in Detroit this Friday at 5 p.m. The event is being hosted by Ted Philips of UCHC and Marilyn Mullane of Michigan Legal Services.