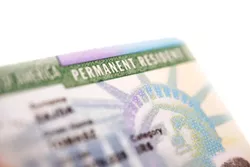 Updated 4:01 p.m.:
According to an update by
WJBK Fox 2
, Hager's mother died on Jan. 22 — five days before Trump ordered the travel ban. Fox 2 is attempting to contact Hager for explanation.
Originally posted 9:04 a.m.:

A metro Detroit man is blaming President Donald Trump for the death of his mother, who died after being denied re-entry to the U.S. following Trump's travel ban.
Mike Hager, a metro Detroit business owner who was born in Iraq and has lived in the U.S. since the 1990s,
tells WJBK Fox 2
his sick mother, 75-year-old Naimma, died one day after being turned away.
Hager and his mother traveled to Iraq before Trump's executive order when his mother fell ill. When they checked in at the airport in Iraq to return to Michigan, Naimma, who has a green card and has lived in the U.S. since 1995, was denied entry.
"I was just shocked. I had to put my mom back on the wheelchair and take her back and call the ambulance and she was very, very upset," Hager told Fox 2. "She knew right there if we send her back to the hospital she's going to pass away — she's not going to make it."
Hager says he and his family fled Iraq during the Gulf War. After spending four years in a refugee camp, they were resettled in the U.S. Hager later returned to Iraq, serving as a contractor interpreter for the United States Special forces between 2003 and 2008, and survived getting shot in the back.
Hager believes his mother would have survived if not for Trump's travel ban, which restricts immigrants from seven majority-Muslim countries for three months.
"I really believe this in my heart: if they would have let us in, my mom — she would have made it and she would have been sitting right here next to me," he said. "She's gone because of him."