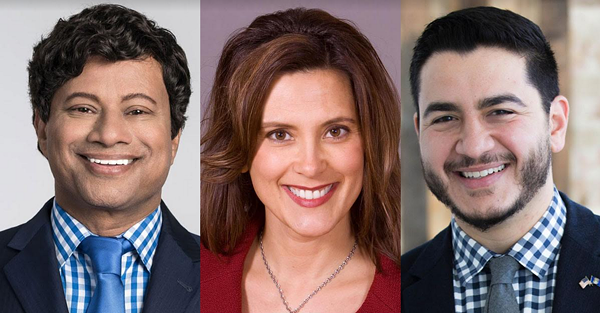 Questions over health care, campaign finance, and political compromise highlighted sharp contrasts between two Democratic candidates for Michigan governor in a Thursday night debate in Detroit.
The Democratic primary debate at
WDIV
was dominated by former Senate Majority Leader
Gretchen Whitmer
, a centrist who touts her ability to reach across the political aisle to get things done, and former Detroit health director
Abdul El-Sayed
, a progressive who says he'll limit the influence of corporations in Michigan by ending privatization within the state's health care, school, and prison systems. Also on stage was
Shri Thanedar
, a millionaire who is running as a progressive but struggled to convey some of his ideas.
El-Sayed took jabs at Whitmer over support she's received from
Blue Cross Blue Shield
, and what he described as her failure to properly disclose the contributors to a 527 group, Build a Better Michigan. According to the
Center for Public Integrity
, a 527 group is a non-profit political organization known for operating in a "gray area" of the law. El-Sayed described Build A Better Michigan as a "dark money group" that has spent more than $2 million advertising for Whitmer. The Truth Squad at
Bridge Magazine
has previously rated that claim "half accurate."
Whitmer hit back at one point, though mostly, she tried to stay above the fray and cast her opponents as too divisive.
Below, we've transcribed the more fiery exchanges of the hour-long debate.

Health care
El-Sayed: "I'm a doctor, and unlike the other two, I've been in situations where I've had to talk face-to-face with people who cannot afford health care. And the reason they can't afford health care is because we have cemented a system whereby corporations — people like Dan Loepp, the CEO of Blue Cross Blue Shield — make millions of dollars,
$13 million
in fact, and we don't have health care, 600,000 of our sisters and brothers don't have it. That's why we have stood up and said we need a state-level Medicare-For-All-style health care system, that's why we're proposing
Michicare
. Michicare would save the average Michigan family earning $48,000 a year $5000, and it would cover everybody. Even businesses would save money.
But right now we have people in this primary, people like Senator Whitmer, who will take credit for health care reform, but the fact is is that they're also taking money from those same corporations, and those same individuals who maintain the status quo. It is not OK, we have to have the courage of our convictions to stand up for Michiganders who need health care and do it now."
Whitmer: "I'm not going to be lectured by anyone on this stage or even on the other side of the ballot on health care. When I was 29 years old I was taking care of my mom at the end of her life. She was 59 years old and she died of the worst kind of brain tumor that you can get. I battled an insurance company that was wrongfully denying her chemotherapy. I had to take it on and I had to take care of my mom. That's what compelled me to go to work.
When Governor Snyder embraced the Affordable Care Act, I knew that despite the fact that Republicans controlled the House and the Senate, he'd never get it done without my help. So as the Senate Democratic leader, I didn't just watch my opponent struggle, I went to work. I rolled up my sleeves, I negotiated, and I delivered the votes so that
680,000 people in our state have health care today who didn't before
. As governor, I'll take on people like Bill Schuette or Donald Trump, I'll ensure that if you've got a pre-existing condition, that you are covered. If you've got high prescription drugs, we're gonna pull them down, and I'm going to protect contraception and access to women's health care too."
El-Sayed: "I appreciate the role Whitmer played in making sure we were a part of Healthy Michigan … but let's be clear: Those same insurance companies that Senator Whitmer talked about, one of them is Blue Cross Blue Shield. Their CEO made 13 million bucks last year, and right now I know that they hosted a closed-door fundraiser for Senator Whitmer. We don't know what was said, we don't know what kind of deals were cut. That's the kind of corporate corruption we cannot sustain in our health system. We've got to clean it up."

Campaign finance
Abdul El-Sayed: "Senator Whitmer talked about Republican gimmicks, and one of the worst Republican gimmicks we have right now is Citizens United — it created a path for dark money to flow into our politics. And I hate to say it, but right now she's employing exactly that. Build A Better Michigan, which you've been seeing ads from, what it is is a means to put unlimited amounts of corporate money into our politics to move a message. We have to ask, where is that money coming from? In four days since it was supposed to tell us, we still don't know. We cannot continue with this kind of politics."
Whitmer: "Give me a break Abdul, you've received $170,000 in your campaign from corporate executives, you can't be half-pregnant on this one. You know, my organization, my campaign is playing by the rules, we are working hard and I am proud to have the real grassroots campaign — 84 percent of the dollars that I've raised have come from within Michigan, 84 percent of those are $100 or less. That's what a real grassroots movement looks like. "
(El-Sayed is taking no corporate PAC contributions. $170,000 represents less than 9 percent of the $2 million he'd raised by a January campaign finance disclosure deadline).

"Restoring notions of civility"

El-Sayed: "I hope that as a leader, the humility that I have carried forward in the work that we've done — listening, learning, reflecting, and then pushing forward policies that speak to the challenges that Michiganders face, that is the same kind of administration that I intend to run. For me, people are not going to be worried about a side show that happens in the administration. It's not going to be like watching Donald Trump, but rather watching a leader who believes in the state of Michigan, believes in our people, is not bought off by the same corporations who bought and sold those politicians for so long. It truly is about all of us."
Whitmer: "I was raised in a household — my dad was kind of a Milliken Republican and my mom was a Frank Kelly Democrat — and we had a lot of interesting conversations around our table, but they always centered around the same values. And that is that everyone's important, honesty and integrity is crucial in public service, and that the best public servant speaks to their values and always talks to anyone who wants to solve a problem.
Frankly, my colleagues in this Democratic primary have gone way off the rails ... telling things that are not true, and spinning, and throwing the most divisive language out. I'm not doing that. In this campaign I have stayed focused on the issues, I have stood up for them when they've been under attack themselves, and I think demonstrating the kind of leadership, the kind of conduct we want is important, and I take that seriously as the mom of two daughters."
(Whitmer publicly opposed efforts by the Michigan Democratic Party to challenge El-Sayed's eligibility to run for governor.)
Stay on top of Detroit news and views. Sign up for our weekly issue newsletter delivered each Wednesday.