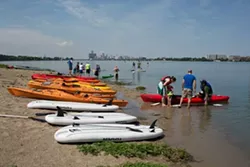 Over the past decade, state funding for the marine divisions of sheriffs' offices in Michigan has dwindled with the decline in the number of registered boats.
At the same time, the number of unregistered canoes and kayaks has increased, leading to calls for the owners of those craft to also be required to pay the registration fees that support rescues and other boating programs.
"We've experienced a dramatic decrease in funding," says Mackinac County Sheriff Scott Strait. "It's roughly one-third of what it was 10 years ago."
Marine divisions offer boater safety classes, patrol waterways, and conduct search-and-rescue missions on the water, including areas of the Great Lakes.
The Department of Natural Resources offers Marine Safety grants to county sheriff departments for marine patrol divisions. The grant money comes from boat registration fees.
However, a decline in registered boats has led to a decrease in the grant money vailable — and sheriffs' offices across the state are feeling the effects, says Blaine Koops, executive director of the Michigan Sheriffs' Association.
In 2007, there were 827,869 registered boats in Michigan. By 2012, there were only 800,793. Last year that number dropped to 790,425, according to the DNR.
The amount available for Marine Safety grants is decreasing with the decline in registered boats. In 2007, it was about $3.5 million. In 2012, it fell to about $2.8 million. In 2016, it was about $2.2 million, according to the DNR.
"Funding here is roughly half of what it was when I first started," says Sgt. Eric Decker, from the Marquette County special operations division. "Ten to 15 years ago, grant money was somewhere between $30,000 and $35,000. It's now down to between $17,000 and $20,000."
In the past, the Marquette County Sheriff's Office used funds from the DNR grant to purchase new equipment, but he said the lack of funding is now forcing the county to make some tough decisions.
"We haven't been able to replace equipment," Decker says. "We have an aging boat, but we haven't been able to replace it because grant money has gone down. It's now looking like the county will purchase the boat and will put off getting a new patrol car for another year."
An increasing problem counties are seeing is the number of calls they receive from canoers and kayakers in distress.
"We're seeing major issues with kayaks," says Kelly Hanson, the Huron County Sheriff. "We've been called out over 70 times this year for kayak rescues."
In Michigan, canoes and kayaks do not have to be registered. When users call for help, they are using marine division resources without contributing to the funding, Strait says.
Strait said his office is receiving a growing number of calls from kayakers, especially in the Straits of Mackinac. Decker says Marquette County is also getting more calls involving kayakers in trouble.
All three sheriffs say that requiring canoes and kayaks to be registered would improve the funding situation.
They're not alone.
"This is something we've wanted to see happen for years," says Mark Miltner, vice president of Michigan Association of Paddlesport Providers and owner of Pine River Paddlesports Center in Wellston, about halfway between Manistee and Cadillac.
"The number of people who own personal crafts is increasing, and they're not always experienced," he says. "Sheriff marine divisions are getting called out more and more to do search and rescues."
Decker said the drop in funding means fewer deputies on the water.
It's a concern that Hanson shares.
"At one time we had a marine patrol seven days a week," he says. "Now we just have a weekend patrol."