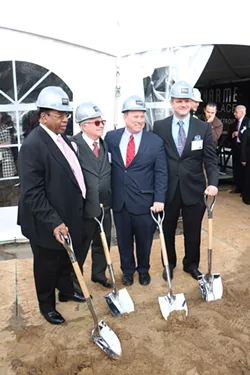 It seems like almost every week now, Detroit Mayor Mike Duggan is helping announce or break ground on a large new residential development in one posh pocket of the city or another.
Late last month, he stood at a podium in a school near the Lodge and Martin Luther King Jr. Boulevard to announce the coming of Midtown West, a $77 million mixed-use development that will include more than 300 new residential units. About a week later, doors were opening at DuCharme Place, a set of almost 200 luxury units in Lafayette Park. On May 8, the mayor stuck a shovel in a small pile of a dirt poured upon the asphalt of a Corktown parking lot to kick off construction of Elton Park, a mixed-use development that will eventually offer more than 400 new units.
The residential development boom in the city center is almost impossible to miss, even for people who live along Detroit's outer boundaries. News of the apartments going up near the site of what was once Tiger Stadium has made it all the way to a woman who can't read and write at the Pablo Davis Elder Living Center on W. Vernor Highway.
"Who runs those new ones over by Trumbull?" the 76-year-old named Maryanne asks in the building lobby, where she's standing in a pair of beige hospital-style slipper socks. "I would like to have an apartment by myself."
Maryanne and her boyfriend pay just over $700 a month for a two-bedroom unit at the low-income senior apartment building in Southwest. According to real estate website Trulia, market rate for a similar rental in Corktown is double that. We tell Maryanne she'll likely have to spend more than $1,000 a month to live in Elton Park.
"Yeah I figured that," she says begrudgingly. "What about the city helping people pay?"
Right now, the city works with developers on a project-by-project basis with the goal of making at least 20 percent of units in newly built developments affordable for low-income people, who are described by the federal government as those living at 80 percent of area median income (AMI) or below. Soon, the Duggan administration and Detroit Councilwoman Mary Sheffield are hoping to have a law on the books that holds developers to that goal: The offices are working together on an inclusionary housing ordinance that Sheffield says will "address the housing inequities that will inevitably arise out of" Detroit's growth.
But the guidelines for developers are based on a metric that inflates how much money Detroit residents live on. The federal government groups the city with its more affluent neighbors to determine area median income for the Detroit-Warren-Livonia metropolitan statistical area, and, as a result, AMI in a city where 40 percent of people live in poverty was this year listed as $68,600 for a family of four. That means if developers are providing units to people who live at 80 percent of that, they're serving households living on nearly $55,000 per year, thus keeping people like Maryanne out of Detroit's shiny new buildings.
With that, she seems to accept moving to Corktown as financially unfeasible, and jumps to a more pressing topic: A close friend in deteriorating health. But by the time she's done speaking, Maryanne will mention again that she wants her own place.
Whether or not Maryanne wants to stay at Pablo Davis, she is, technically speaking, lucky to reside in the senior living center that receives funding through the federal Low-Income Housing Tax Credit (LIHTC) program designed to serve people living at 60 percent AMI and below. Between 2016 and 2020, the 15-year credit will have expired at about 5,000 LIHTC units in Detroit — more than a third of the total number of LIHTC units in the city. That means thousands of the city's poorer residents living in such properties in greater downtown are at risk of having their rent jump to a higher market rate when affordability restrictions expire. The data comes from the Michigan State Housing Development Authority and the Department of Housing and Urban Development.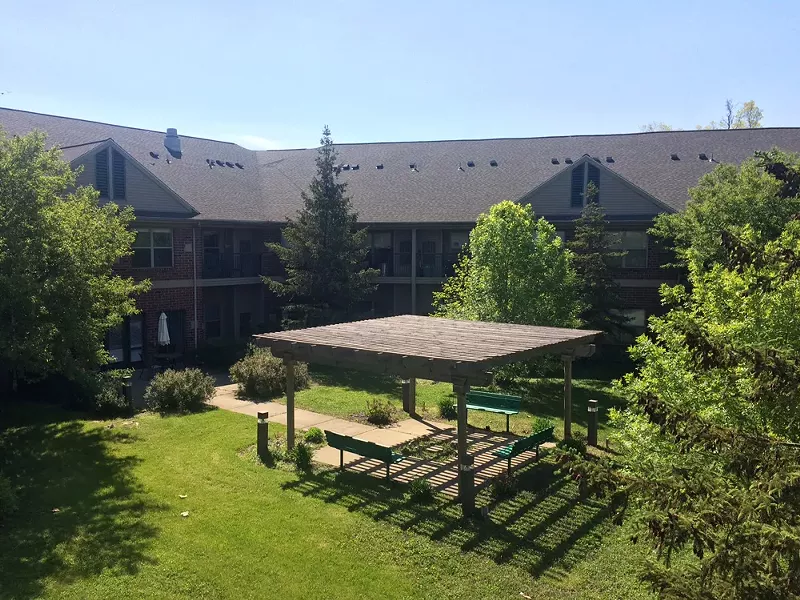 What's more, the subset of the population the tax credits aim to help is already finding it increasingly difficult to secure affordable housing in Detroit: A recent study commissioned by the city as it aims to create an inclusionary housing ordinance found that 86 percent of Detroit's rental units are affordable for those making 60 percent of AMI, 67 percent are affordable to those earning 50 percent of AMI, and just 23 percent are affordable for those making 30 percent of AMI and below. Meanwhile, the HR&A study found 97 percent of rental units throughout the city are affordable for those making 80 percent of AMI. (Affordable means that the household spends no more than about a third of its monthly income on rent and utilities.)
LaToya Morgan, public policy manager of Community Development Advocates of Detroit, says the numbers point to a looming housing affordability crisis for the city's poorest residents.
"Each of these affordable housing strategies ... they're all based on an AMI that is too high for the population in the city of Detroit, which creates a potential crisis when you have lots of projects coming online that are not meeting the need," Morgan says. "You then have a lot of displacement that's happening through a compounding of issues such as tax foreclosure and LIHTC properties reaching expiration."
But as Morgan and other community development leaders ring the alarm for the 40 percent of Detroit residents living in poverty, the mayor's office and councilwoman Sheffield are pressing forward with a housing ordinance that looks as if it will most benefit those households living at 80 percent AMI — the low-income band that needs housing options least, according to the HR&A study.
The ordinance under draft would require developers behind projects with at least 20 units to make 20 percent of them affordable if they are built on city-owned land or receive funding from the city through U.S. Department of Housing and Urban Development-administered grants and programs. Of that 20 percent, Sheffield's office is proposing to make half of the units available for households at 80 percent AMI, a quarter available for households at 60 percent AMI, and a quarter for those at 50 percent AMI. Mayor Duggan's office, however, says it cannot guarantee that housing options for those at the lowest incomes on that scale will make it into a final draft of the ordinance.
"The challenge is, when you get to a 50 percent income band, developers can't provide the units," says Housing and Revitalization director Arthur Jemison. "The rent isn't sufficient to operate rental housing unless you have rental assistance, typically in the form of a project-based Section 8 [voucher]."
Jemison says there also may be issues with the rules surrounding the HUD money getting funneled to developers through the city, on which the ordinance would rely.
"You have to legislate it consistent with the [regulations]," says Jemison. "Creating more rental assistance to serve 50 percent households is a major goal of ours and we appreciate where [Sheffield's office is] trying to go ... it's just we can't do it through legislation alone."
The Duggan administration appears to, for now, be taking a piecemeal approach to securing more affordable housing for city residents at the lowest income levels. On May 15, the Housing and Revitalization office proposed transferring nearly 400 vacant public housing units from the Detroit Housing Commission to offer more assistance to people making 30 percent to 50 percent AMI. The city has also issued a request for proposals from developers seeking to build project-based Section 8 buildings and says it is trying to secure more Permanent Supportive Housing for the city's homeless, who live below 30 percent AMI.
Meanwhile, the housing ordinance taking shape will also include a provision to create a "housing trust fund" for those extremely low-income residents, a proposal that came from a group calling itself the Housing Trust Fund Coalition. The coalition says the fund is essential for making Detroit's redevelopment equitable.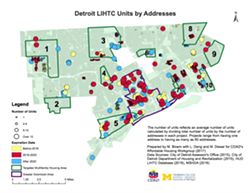 "The only actual possible future that Detroit is redeveloped where that's a good thing means that existing residents have to still be in Detroit," says Aaron Handelsman, who represents coalition member organization the Detroit People's Platform. "All Detroiters have the right to safe, decent, and affordable housing, and they, uniquely, are the ones who have the rights to remain in Detroit, reclaim Detroit, rebuild Detroit and benefit from all of the [development] activities."
It's not yet clear how well-funded the trust fund component of the housing ordinance will be. Right now, the plan is to have developers who violate the 20 percent affordability rule pay their resulting fines into the fund. Those crafting the ordinance say they're also looking for a steady revenue stream to support the fund. The Housing Trust Fund Coalition, which is working with Sheffield on the policy, has proposed adding a surcharge to ticket sales at the new Little Caesars Arena.
The suggestion hasn't gained traction, but the group remains hopeful. Its membership has had some success advocating for equitable development in the past: In November, Detroiters approved a proposal requiring major developments seeking city subsidies to reach a community benefits agreement with those who would be impacted by the development. However, voters had a choice of two plans — one backed by the People's Platform and one backed by city officials and business leaders — and went for the more business-friendly proposal.
How successful the People's Platform will be in its latest grassroots effort will most likely be evident within a month, when the mayor's office says it expects the housing ordinance to be finalized. From there, the proposal will be subject to approval by city council.
EDITOR'S NOTE: This story was updated on May 19 to accurately reflect the number of LIHTC units in Detroit that will expire by 2020. We initially reported that the credit was to expire at 20,000 units.