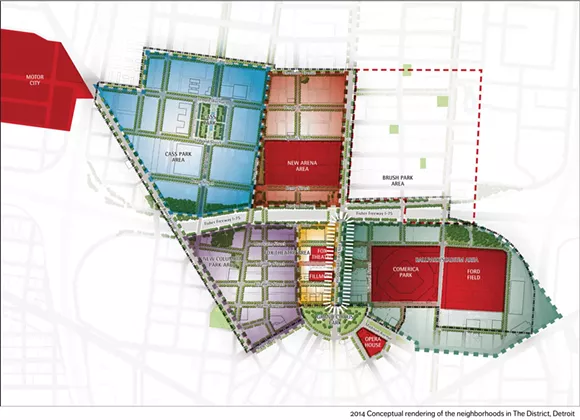 Detroit City Council will discuss the proposed rezoning of a 12-acre parcel near downtown Detroit to facilitate
the new $450 million Detroit Red Wings arena
. But as Joe Guillen of the
Detroit Free Press
noted on Sunday,
there's much more at stake
:
The latest plans for the new Red Wings arena have raised concerns among community members and historic preservation advocates that the well-known Hotel Park Avenue could be torn down.

The potential for demolition has grabbed the attention of Detroit City Council members who are questioning whether to support a rezoning request for the arena project.
Councilmember Scott Benson has taken the reins of the preservation initiative, saying the rezoning request should be amended to maintain the hotel and find a future use for it, Guillen notes.
The Red Wings will vacate the team's current home, Joe Louis Arena, prior to the start of the National Hockey League's 2017-2018 season and move to the new facility, located just north of I-75, west of Woodward. The new arena will be constructed using as much as $285 million in public funds for the project. Guillen reports that a contractor for the development told City Council previously that a federal homeland security guideline adopted by the NHL requires the team adhere to a 100 ft. security clearance surrounding the new facility. But a spokesperson for the NHL could not confirm to the
Freep
that such a guideline is in place.
The meeting will take place at 3:30 p.m. on Thursday, Nov. 20 inside the City Council's committee of the whole room on the 13th floor of Detroit City Hall, which is located at 2 Woodward Avenue.