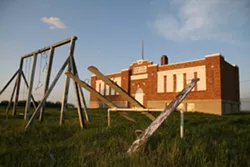 A press release just arrived in our inbox announcing that the City of Detroit will file nearly 600 lawsuits in the coming days against those who owe unpaid property taxes from 2010 through 2012.
Before you get worked up about the city's vigilant persecution of struggling families and those who have hit upon hard times, let us tell you about the second part of the press release: Those who are being sued are mainly banks and big corporations.
"We are not talking about the family that has fallen on tough times, those struggling to decide whether to feed their children or pay their taxes," David Szymanski, treasurer and deputy chief financial officer for the City of Detroit said in a statement Wednesday about the suits to recoup $12.2 million in unpaid property taxes owed to Wayne County, Wayne County Community College District, Wayne RESA and Detroit Public Schools.
"We went to great lengths to ensure that we were going after only those who bought property as investments, not as a place to live. This is about those who tried to make money without paying what they owed. We are standing up for our property owners who paid their taxes and played by the rules."
According to the press release, Michigan law allows the city to sue property owners over delinquent taxes, "r
egardless of whether the property has gone through foreclosure or auction and has been sold."