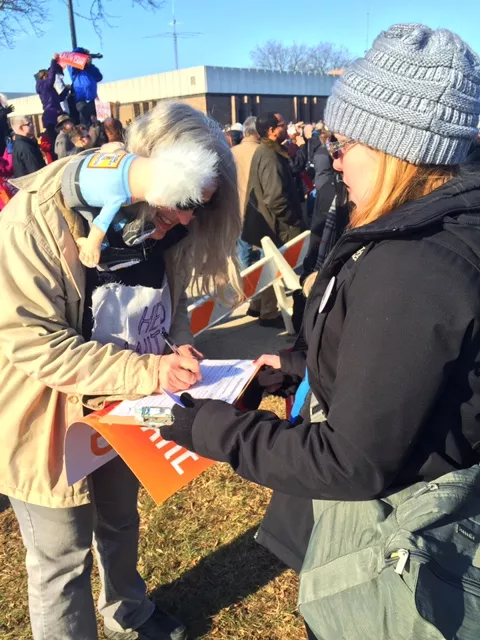 Thousands of people braved freezing temperatures in Warren on Sunday
to rally to keep congressional Republicans from repealing the Affordable Care
Act as part of a national day of action led by Democrats.
Dozens of "Save Health Care" events were held across the country, with the rally at Macomb Community College garnering significant attention for its location — a county that went for president-elect Donald Trump in a stunning upset that helped him carry Michigan — and because Vermont Senator and former Democratic presidential candidate Bernie Sanders headlined the event.

Detroit resident Danielle Hicks was one of many people in attendance at risk of losing their health insurance.
"Without Obamacare, I wouldn't be able to afford medication for my depression," explained the self-employed mom as she held her
two-year-old son in her arms under a fleece blanket. "It could get worse and
keep me from working."
Her husband, Miles Hutcherson, says he too fears going back to the way things were before the law took effect in 2014.
"We used to have to worry about every little injury, every little sickness, and be reduced to looking up remedies on the internet," said Hutcherson.
Hutcherson is Canadian-born and enjoyed what he says was free, high-quality health care until he moved to the United States. He and many of those on hand for the rally — including Senator Debbie Stabenow, Senator Gary Peters and Senate Minority Leader Chuck Schumer — concede the Affordable Care
Act isn't perfect, but that Republicans shouldn't repeal it without a plan to
replace it.
"We want to work together. We have ideas," Stabenow told the crowd. "How about a public option, how about single payer? But they just want
to rip it away."
House Republicans on Friday passed a measure to begin the process of repealing ACA. About 30 million people would lose their health care
under the change.
"You take away health care from thirty million Americans, how many of them will die?" asked Sanders, who took the stage to roaring applause. "The answer is thousands. How many will get sicker than they otherwise would have? The answer is millions."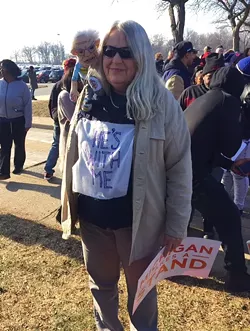 The event marked Sanders' first stop in Michigan since the general election — and his first clear effort to re-mobilize the progressive political base he rallied during his presidential bid.
Sanders seemed to hint toward that end, telling the crowd, "This is the beginning of the fight, not the end of the fight." Fittingly, a woman standing on the outskirts of the audience shouted back, "What do we do, Bernie?"
Kelly Collison, founder of Michigan for Revolution, a grass roots organization formerly known as Michigan for Bernie, is hoping to channel that kind of loyalty. Metro Times found Collison roaming the periphery of the rally holding a clipboard and trying to identify Democrats and other progressives disillusioned by Hillary Clinton's candidacy and the "excuse-making" that has followed her loss.
"There's a lot of people who despise the Democratic Party and refuse to get back in, but we're trying to work to get people into the party so we can reform it because we think that's the quickest and most effective way [to change things]."
Over the past three weeks, the organization with a membership of 14,000 has signed 600 far left-leaning Michiganders up for the state's Democratic Party in an effort to influence its platform.
"We need to be further to the left with the so-called 'alt-right' being so far to the right," said Collison. "We can't meet them in the middle and then go between alt-right and center."

Asked whether she thought the coordinated day of rallies would have any effect on thwarting the Republican-led effort to gut ACA, she expressed optimism and said drawing attention to the matter is key.
Sanders, too, championed the crowd for coming out on a chilly winter day that he noted coincides with the day of Martin Luther King Jr.'s birth.
Said Sanders, "Real change never takes place from the top down. Real change always take place ... from the bottom up."
To the tens of thousands who stood up for #OurFirstStand, thank you. This is not the end of the fight. This is the beginning. pic.twitter.com/ekvGDLlAvN

— Bernie Sanders (@BernieSanders) January 16, 2017